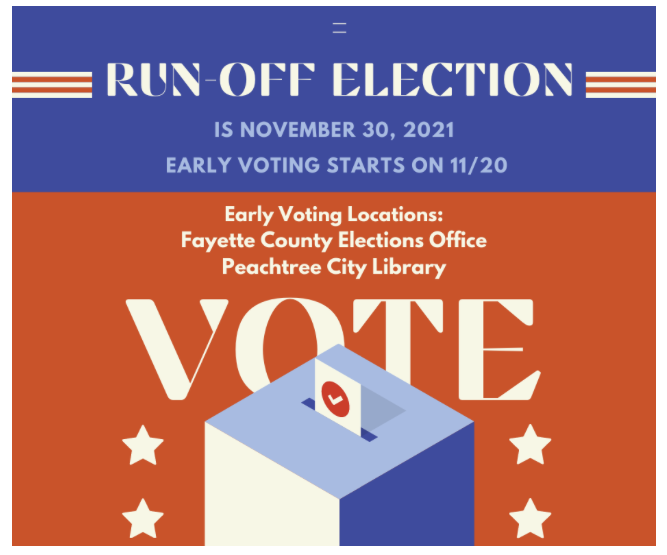 Peachtree City voters go back to the polls starting Nov. 20 to select the city's next mayor and Post 4 City Council member.
The mayoral race is between 2 former council members, Kim Learnard and Eric Imker. The current mayor, Vanessa Fleisch, is term-limited after serving 2 4-year terms. Her term concludes Dec. 31 of this year.
Two political newcomers are vying for the open Post 4 seat after Councilman Terry Ernst — also term-limited — sought the mayoral post unsuccessfully. Frank Destadio — a longtime volunteer member of the city's Planning Commission — and chiropractor Phil Crane are competing for the open council slot.
Even if you did not cast a ballot in the Nov. 2 election, you can vote in the runoff.
Here are the dates and voting sites:
Fayette County Drop Box Location:
Fayette County Elections Office (Inside)
140 Stonewall Avenue West Suite 208
Fayetteville, Georgia 30214
There are two voting locations for early voting: The Peachtree City Library, downstairs, and the elections office in Fayetteville.
Saturday Voting November 20, 2021 – (9:00 a.m. – 5:00 p.m.)
Monday, November 22 through Wednesday, November 24, 2021 (9:00 a.m.–5:00 p.m.). Note: Last day of early voting is on November 24th, 2021 At 5:00 p.m.
November 25, 2021 – Thanksgiving Holiday (NO voting)
November 26, 2021 – Thanksgiving Holiday Observance Day (NO voting)
Tuesday, November 30, 2021 — Voting day for runoff election (15 regular voting precincts)