Members of four local law enforcement agencies have been credited with working together to arrest a sex offender on several charges related to his...
It's a true story. A sociopathic killer goes on a murderous rampage, leaving a path of destruction that is worse than any slasher film...
A long, long time ago in a house not so far away, newlyweds were enjoying a cup of hot cocoa while sitting around their...
Locally-produced, up-to-date news about Fayette County and its cities has never been more important.
Unfortunately with the challenges facing our nation and our community, it's never been more difficult to provide this as a free service. We need your help.
Please consider supporting our efforts with automated monthly or one-time contributions.
For the price of a cup of coffee or two, you can help secure the future of The Citizen and its local coverage on your behalf.
We are a for-profit organization (although you can't tell it from our P&L). Contributions are NOT tax-deductible. But we greatly appreciate any help you can give us.
When Jeff Holmes is in the classroom, students are in good hands. Holmes loves life as a prolific substitute teacher with Fayette County Public...
The Wildcats teamed up for a good cause. At the football game against Troup County, Whitewater High hosted a Breast Cancer Awareness Pink Out...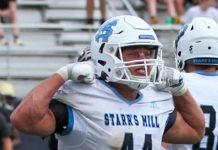 The Starr's Mill Panthers are deep in pursuit of a state football championship, and they want the community's help. On Friday, December 1 at...
The hallways at Peeples Elementary have been buzzing as the staff goes on a turkey hunt. The School Environment/PBIS Action Team works hard during the...
No matter the sport, Tishay Lewis carves out success for her athletes. Lewis, Sandy Creek High's volleyball and girls basketball coach, strives for the...