Girl shoots man from front porch as Fayette deputy walks up driveway to Whitewater Creek subdivision home, then is herself wounded by deputy returning...
The City of Senoia's Downtown Development Authority will host a ceremony to honor those who made the ultimate sacrifice while serving our nation on...
A week from today I will go under the knife again. Having had my left knee replaced about six years ago, the time has...
Locally-produced, up-to-date news about Fayette County and its cities has never been more important.
Unfortunately with the challenges facing our nation and our community, it's never been more difficult to provide this as a free service. We need your help.
Please consider supporting our efforts with automated monthly or one-time contributions.
For the price of a cup of coffee or two, you can help secure the future of The Citizen and its local coverage on your behalf.
We are a for-profit organization (although you can't tell it from our P&L). Contributions are NOT tax-deductible. But we greatly appreciate any help you can give us.
 McIntosh High's Tyler Routon is the 2022 TAPP Teacher of the Year. Routon, a special education teacher, was named the region's winner by Griffin RESA...
When the makers of a new animated kids show wanted feedback for their creation, they turned to students from Fayette County Public Schools for...
Starting June 6, the Fayette County Public School Technology Department will begin offering summer Chromebook help. If a student needs a Chromebook repaired, parents need...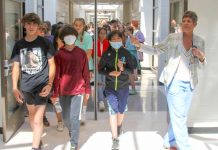 The current and future Warriors got a sneak peek at what will be their new home in the fall. Principal Deb Troutman and staff...
At Fayetteville Elementary, students care about the world and creatures around them, and the young artists at their school aimed to make a difference...