On Sept. 22, a Spalding County Jury returned guilty verdicts in the State of Georgia v. Isaac Reid and DeQuavion McMullin. According to trial testimony,...
Presbyterian Pastor Alexander Lang caused quite a stir recently when he published his blog, "Departure: Why I Left the Church." Lang never imagined how...
Whenever I meet someone, inevitably, their first comment is, "You must be a Georgia football fan." Truthfully, I reply, "I'm an SEC fan. I love...
Locally-produced, up-to-date news about Fayette County and its cities has never been more important.
Unfortunately with the challenges facing our nation and our community, it's never been more difficult to provide this as a free service. We need your help.
Please consider supporting our efforts with automated monthly or one-time contributions.
For the price of a cup of coffee or two, you can help secure the future of The Citizen and its local coverage on your behalf.
We are a for-profit organization (although you can't tell it from our P&L). Contributions are NOT tax-deductible. But we greatly appreciate any help you can give us.
When parents send their children to Kedron Elementary each day, they know they are in good hands with school nurse Diani Harper. After working as...
The Crocodiles are running together towards a goal. With Girls on the Run, Cleveland Elementary students are getting active and developing life skills. Girls on...
You have to believe in yourself to make great music, and J.C. Booth Middle's Director of Bands McKinley Stinson has the drive to help...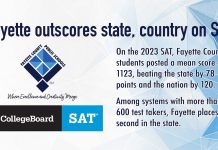 Fayette County posts second-highest scores among comparable districts — Fayette County Public Schools maintained its place as one of the state's top-performing districts on the...
Ludovic Lythgoe is one of the brightest young science minds in the country. Society for Science announced Lythgoe among the Top 300 Junior Innovators in...