Two of the three felons wanted for burglarizing the same convenience store in north Fayette County in the space of a week, along with...
Who knows how we find some of life's most meaningful treasures but somehow we find them and they becomes delights. Last summer, Tink was away,...
Peachtree City Library will welcome Emmy Award-winning journalist John Pruitt on Tuesday, October 4, at 1 p.m. to discuss his debut novel, "Tell It...
Locally-produced, up-to-date news about Fayette County and its cities has never been more important.
Unfortunately with the challenges facing our nation and our community, it's never been more difficult to provide this as a free service. We need your help.
Please consider supporting our efforts with automated monthly or one-time contributions.
For the price of a cup of coffee or two, you can help secure the future of The Citizen and its local coverage on your behalf.
We are a for-profit organization (although you can't tell it from our P&L). Contributions are NOT tax-deductible. But we greatly appreciate any help you can give us.
Ten Fayette County middle school students got a head start on their college education by winning a $10,000 REACH Georgia Scholarship. A total of 10...
Flat Rock Middle students and families will join together to celebrate International Observe the Moon Night on Saturday, October 8. The free event will...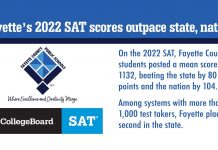 McIntosh High had the 15th highest average in Georgia —  Fayette County's public high school students again greatly outpaced the rest of Georgia and the...
The Cardinals are finding out there are many ways to master math. Crabapple Lane Elementary 1st graders have been busy studying different ways to represent...
Inman Elementary has adopted a new house system, and the Eagles have been sorted into NESTs to grow together. Each student, every last Eagle from...