The last suspected member of a three-man crew of armed robbers that hit the Verizon store at Kedron Village in north Peachtree City on...
After a country supper in the days of my growing up, Mama would often stand up from the table and say, "Ronda, you clean...
Fayetteville, Georgia — June 22, 2022 — Main Street Fayetteville has announced that Butcher Brown will headline the City's first-ever Mad South Jazz Festival...
Locally-produced, up-to-date news about Fayette County and its cities has never been more important.
Unfortunately with the challenges facing our nation and our community, it's never been more difficult to provide this as a free service. We need your help.
Please consider supporting our efforts with automated monthly or one-time contributions.
For the price of a cup of coffee or two, you can help secure the future of The Citizen and its local coverage on your behalf.
We are a for-profit organization (although you can't tell it from our P&L). Contributions are NOT tax-deductible. But we greatly appreciate any help you can give us.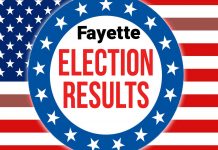 Regina Daigre will be the Democrat candidate for Fayette County Board of Education Post 4 in this fall's general election. She defeated Patty Mosley 64%...
The REACH program is making important partners in the community. Celebrating the end of another year, the program hosted a reception with supporters in...
Whitewater Middle School was the spot for the 1st Annual Fayette County Public Schools Teaching & Learning Conference, bringing together 40 presenters and more...
The Fayette County Board of Education approved a price increase for student meals for the 2022-2023 school year. The elementary school lunch price will be...
Make a difference in the lives of students and be a substitute teacher. Now, the decision to get involved is easier than ever as...