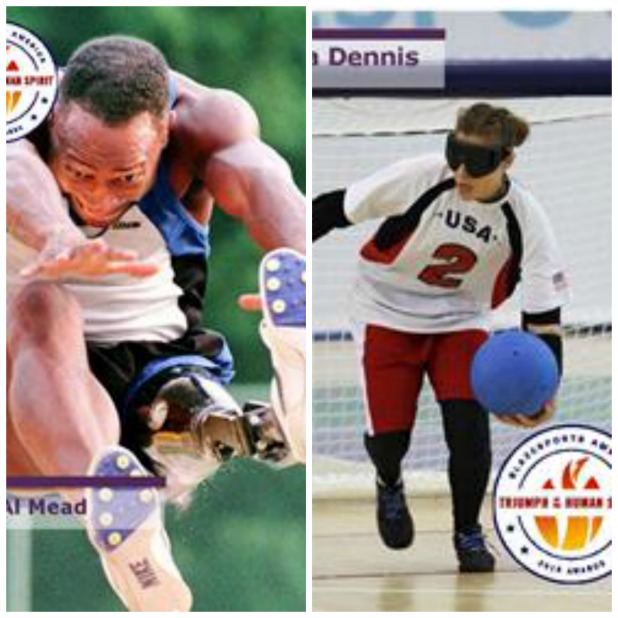 BlazeSports America honored those in Georgia who have made a significant impact through adaptive sport and recreation at its Triumph of the Human Spirit Awards earlier this month at the Art and Angela Williams Theater at the Primerica Global Headquarters in Duluth.
The evening was hosted by Fox 5 Atlanta journalist Paul Milliken and featured inspiring talks from motivational speaker Michael Kutcher, ESPN-ESPY Award winner Krige Schabort, Paralympian power couple Gavin Cloy and Jessica Galli-Cloy and quad rugby (wheelchair rugby) MVP Duane Morrow, along with presenters, supporters and athletes who have done extraordinary things and succeeded and persevered against all odds.
"This year's BlazeSports Triumph of the Human Spirit Awards ceremony offered an extra special evening, and we were honored to be in the company of so many athletes, coaches, volunteers, organizations, elected officials, veterans, families and friends who all contribute time, passion and commitment towards adaptive sport and recreation in Georgia," said BlazeSports America Executive Director Cynthia Frisina.
Among the 20 awards given during the evening, Fayette County residents Al Mead and Amanda Dennis were honored.
Al Mead lost his left leg at age 9, but he never lost his winning spirit. A world-class track athlete and Paralympian, he has broken numerous world records in the 100-, 200- and 400- meter races during Paralympic trials. Competing in the long jump, he won a gold medal in the 1988 Seoul Paralympic Games, then took silver in the 1992 Barcelona Paralympics.
Mead was the first Paralympian to ever be inducted into the Georgia Sports Hall of Fame. Earlier this year, he was inducted into the Atlanta Sports Hall of Fame. He is one of only a few Americans who have carried both the Olympic and Paralympic torches and was an integral part of bringing the 1996 Paralympics to Atlanta. He served as vice chairman of the Atlanta Paralympic Organizing Committee.
Off the field Mead is an inspirational speaker and role model for many young people and adults teaching them "when you have a setback, it's a setup for a comeback." He is a disability advocate, community leader and serves as associate pastor at New Hope Baptist Church in the Fayetteville community.
Amanda Dennis is a Paralympic goalball player with an impressive attitude to life and sport. Born with a visual impairment, she began playing goalball at the age of seven. At 15, she came home with a bronze medal at her first Youth Nationals Goalball Championships and three years later, a silver medal.
She qualified for her first Parapan American Games in 2011 and competed in the 2012 London Paralympic Games. The team for 2016 Rio Paralympics will not be announced until next year, but it looks like she is on her way with all of her hard work.
Dennis graduated from the University of Georgia with a degree in sport management. She says that goalball has made her who she is today, learning the value of hard work, determination, perseverance and most importantly leadership.
"Being blind or visually impaired is a disability, but playing a sport helps demonstrate that your disability isn't a disability at all," she said.
Based in Atlanta and celebrating 20 years in 2016, BlazeSports America's mission is to change the lives of children and adults with physical disabilities through sport. In addition to its US efforts, BlazeSports America has served individuals and communities in 11 countries and partners with organizations around the world to provide a broad assortment of programs. The interdisciplinary approach includes sport and community programs, leadership programs, competitions, camps and clinics, professional continuing education and certification and sports diplomacy and social impact. BlazeSports America serves children and adults with adaptive sport programs as well as military veterans with physical disabilities.