Graduation parties are usually a time to celebrate, not the time to pull a gun on a person or to shoot other party-goers. Yet...
I grew up in the "You're Making a Mountain of a Molehill" Era, also known as the Age of "Children Are Starving in (fill...
EDITOR'S NOTE: An editorial columnist from the earliest days of The Citizen Newspaper is retiring and bidding farewell to his readers. Greg Moffatt emailed his...
Locally-produced, up-to-date news about Fayette County and its cities has never been more important.
Unfortunately with the challenges facing our nation and our community, it's never been more difficult to provide this as a free service. We need your help.
Please consider supporting our efforts with automated monthly or one-time contributions.
For the price of a cup of coffee or two, you can help secure the future of The Citizen and its local coverage on your behalf.
We are a for-profit organization (although you can't tell it from our P&L). Contributions are NOT tax-deductible. But we greatly appreciate any help you can give us.
When the makers of a new animated kids show wanted feedback for their creation, they turned to students from Fayette County Public Schools for...
Starting June 6, the Fayette County Public School Technology Department will begin offering summer Chromebook help. If a student needs a Chromebook repaired, parents need...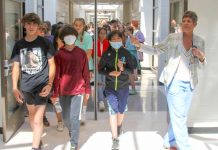 The current and future Warriors got a sneak peek at what will be their new home in the fall. Principal Deb Troutman and staff...
At Fayetteville Elementary, students care about the world and creatures around them, and the young artists at their school aimed to make a difference...
Two Starr's Mill High students, Kirnu Hwang and Charlotte Craner, have been named as winners of the John H. Poteat Scholarship from the National...