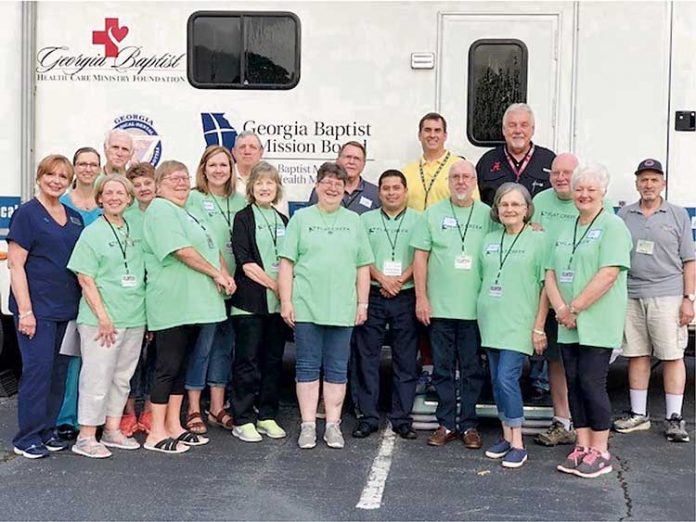 "Sharing Christ's Love In Practical Ways". That has become a common phrase at Flat Creek Baptist Church. "We are trying to show our community that Jesus loves them and cares for them and we are doing it in practical and tangible ways", said Mark Ward, Minister of Education and Outreach at Flat Creek. Senior Pastor Josh Saefkow, who has been at the church for two years now said, "We are sharing the saving knowledge of Jesus Christ with our community in the most practical ways possible".
Flat Creek hosted the Georgia Baptist Mobile Dental Unit at their church August 9-11, 2018 and saw 45 families during the event. The event was designed to help those who have no dental insurance and minimal income. Several local Dentists and their Assistants volunteered their time for this event. Dentists who gave their time for this event were Dr. Mike Ward, Dr. Jay Lambert, Dr. Julia Anne Reynolds, Dr. Rena Ousley-Brown, Dr. Michelle Konwick, Dr. Amish Naik, and Dr. Phillip Adcock. Flat Creek expressed their deep gratitude to these and other Assistants who helped. They also partnered with "There's Hope For The Hungry" to give away over 1000 lbs. of free food to these families. "We are so thankful to Lynn Gilbert and Carolyn Thompson who headed up this event, as well as over seventy volunteers who helped during the three days", said Mark Ward
Flat Creek has held a community event of some kind almost every week this year. The church has helped with grocery carts at local grocery stores, hosted a dinner for local law enforcement officers, provided flowers for families at local Hospices and given away reusable water bottles at local parks, among other events.
Flat Creek Baptist Church is located at 161 Flat Creek Trail in Fayetteville. You can visit their website for more information at www.flatcreekbaptist.org.