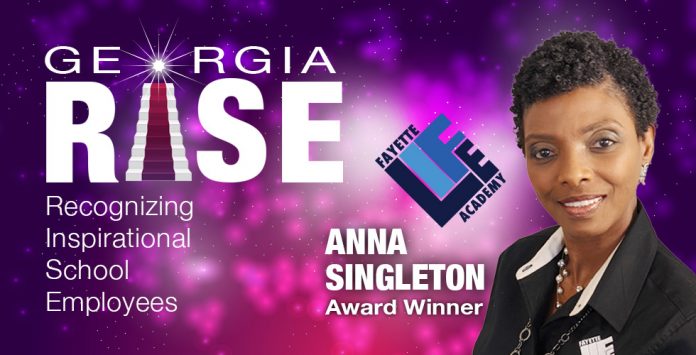 Give her any task, and she will successfully rise to the challenge. It seems that Anna Singleton, a clerk/student information systems operator at Fayette LIFE Academy, can do literally anything she sets her mind to. That tenacity has captured the attention of Governor Brian Kemp, so much so that he has selected her as one of two winners of the 2021-2022 Georgia RISE (Recognizing Inspirational School Employees) Award. She will now go on to compete in the second annual national RISE Competition.
The U.S. Department of Education started the award last year as a way to recognize full or part-time classified school employees who provide exemplary service to students in pre-kindergarten through high school.
Governors of each state are invited to nominate up to two classified school employees for the award. Georgia runs a state-level process, the Georgia RISE Award, to select its nominees. Employees eligible for the award include paraprofessionals, clerks and administrative assistants, transportation, food services, technology, and maintenance personnel, custodians, and school nurses.
Dr. Margo Wimbish, dean of students at Fayette LIFE Academy, nominated Singleton for the award. In the nomination letter she describes Singleton as "the most committed and effective educational support specialist I have ever had the honor of working with." She goes on to say that "as a parent, former teacher and current administrator with over 25 years of experience, I can tell you that Mrs. Singleton is truly a great leader, community liaison and motivator."
Last year during the height of the pandemic when the school system suddenly found itself building a virtual school for over 1,900 students, Singleton jumped in to quickly become the most important resource for teachers, students, and parents. In addition to processing the more than 1,900 applications, she went on to develop a digital system allowing teachers, students, and parents to get assistance through a customer service help desk that had an average response time of seven minutes. Singleton also streamlined all of the communication in the county relating to the Fayette Virtual Academy by creating message boards, developing FAQs, filming training videos, and disseminating information as it came across her desk in real-time. Wimbish says that without Anna Singleton, 1,900 students, 210 teachers, and a countless number of stakeholders would have been completely lost in a field of confusion and misinformation.
"Anna is so good at her job that the program has run without a directly dedicated administrator for some time. This is only possible because the virtual academy runs so smoothly with her at the helm," says Wimbish.
Singleton gives it her all on the job, but her work to help others does not stop at the end of the school day. After hours she serves in various ministries through her church and makes recyclable mats for the homeless. She contributes to many in need of assistance for college tuition, school supplies, uniforms, technology, and social and emotional support. Affectionately called "Auntie" by the children at her church, she regularly attends their school activities, dance recitals, gymnastic meets, ball games, and awards ceremonies. She also teaches piano and mentors many young musicians throughout the county.
"Her life is simply a nonstop exercise in service to others. She is an empowering cheerleader who gives more than anyone should, and spreads that same aura to anyone who is blessed to meet her," says Wimbish.
The U.S. Secretary of Education will select a single classified school employee to receive the 2021-2022 RISE Award this coming spring. The Department will communicate the selectee's story in order to inspire other innovative practices and excellence among classified school employees.