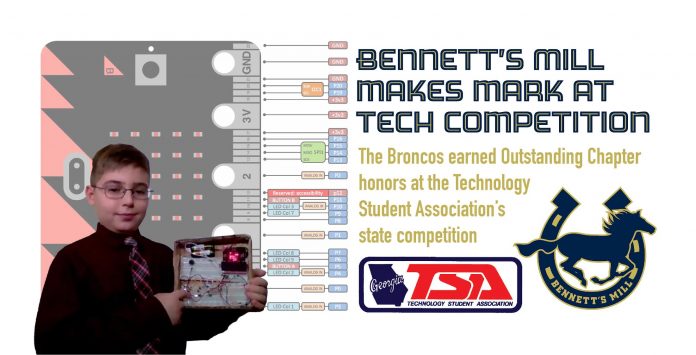 The Bennett's Mill Middle School Broncos are tech-savvy. Recently, they competed virtually in the Technology Student Association's state competition, and the Broncos team as a whole placed 10th in Georgia for Outstanding Chapter.
The trio of Peter Woodall, Victor Woodall, and Aiden Thomas placed 3rd in video game design for their game where you shoot vaccine at COVID-19 germs.
The duo of Michael Panait and Thomas placed 3rd in microcontroller design.
All Broncos competitors placed, including Tommy Davis and Hannah Nolton in coding, Nolton in prepared speech, Woodall in CAD – foundations, Victor Woodall and Bolton in technical design, and Bolton and Ryan White in children's stories.
Fayette County High's Joshua White also competed, placing 10th in "Essays in Technology."