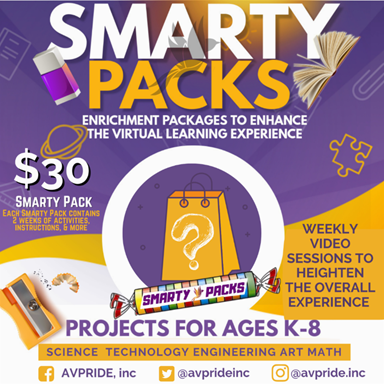 The Covid-19 pandemic has altered some aspects of learning and socialization among a number of Fayette County students. In response, the Association of Village PRIDE (AVPRIDE) has launched a program meant to support student needs.
AVPRIDE CEO Tami Morris explained that in response to the continuing pandemic and student needs for educational enrichment and socialization, AVPRIDE has launched "Smarty Packs," a K-8 STEAM (science, technology, engineering, art and math) program for virtual, traditional and home school students.
Each Smarty Pack contains materials for each 2-week session. On Wednesday afternoons, all in-person and remote students meet in the "Pack Room," a virtual meeting space where STEAM themes are facilitated by instructors. The Pack Room allows students from multiple locations throughout the Atlanta metro area to work together and increases socialization for virtual students and their families, said Morris.
"Our parents who have chosen virtual schooling this year have expressed a high desire for their students to be involved in creative activities with other students," said Enrichment Programs Manager Sheila Pace. "Our strong STEAM curriculum reinforces classroom learning and provides fun activities."
The next session focuses on fossils, with "Pack Room" dates on Dec. 9 and 16 from 3:15-4 p.m. Each 2-week session costs $30. Smarty Pack pickups will be from the AVPRIDE office in Fayetteville (205 Lafayette Ave., Suite D7) on Dec. 4 (4-6 p.m.) or Dec. 5 (9-11 a.m.). Packets can be mailed for an additional $10. To reserve a space for your student, email info@avpride.com or call/text 770-716-2797. Pickups for the 2021 sessions will begin on Jan. 8 and 29, Feb. 26, Mar. 12, Apr. 16 and 30, and May 14.
A fundraising drive is underway to provide scholarships for families in need of enrichment and socialization for their children but are unable to purchase the packs.
"'Smarty Packs' is just one of multiple ways AVPRIDE has responded to the pandemic and expanded our programming in response to family and student needs," said Morris, who took on the permanent role of CEO just before the pandemic hit. "We did not expect the many changes we have made in the last few months, but we are optimistic about our future direction and enhancing the ways we provide value to the community."
AVPRIDE is a 24-year-old Fayette County-based nonprofit which offers academic assistance, civic engagement, leadership training, and youth development to students in grades K-12 and beyond. Programs for youth in need are provided through grants and donations.
For more information visit www.avpride.com