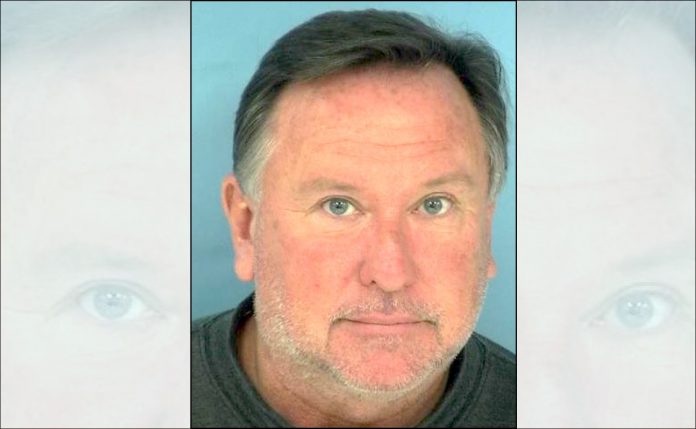 Joseph P. Spillane. Photo/Fayette County Jail.
Fayetteville resident and Georgia State University Police Chief Joseph Spillane was arrested on Nov. 25 on DUI alcohol charges after a traffic stop on Ga. Highway 54 in Peachtree City. The charge was his second for DUI in Fayette County in the past three years.
The incident occurred on Nov. 25 at 11:22 p.m. at a traffic stop by Peachtree City police on Hwy. 54 at Stevens Entry and resulted in Spillane, 57, being charged with DUI alcohol and failure to maintain lane, according to Fayette County Jail records.
According to the incident report, "After investigation, the driver was found to be driving under the influence of alcohol. He was arrested and transported to the Fayette County Jail. Due to his highly intoxicated state, the jail would not accept him. He was transported to his home to turn himself in at a later date."
Peachtree City Police Department spokesman Chris Hyatt said Spillane's blood alcohol level at the time of testing was more than three times over the legal limit of .08 percent.
Ga. State confirmed that Spillane subsequently resigned his position at the university, according to Atlanta news sources.
The incident in Peachtree City was not Spillane's first arrest for DUI in Fayette County.
It was on June 19, 2017 in Fayetteville that Spillane was charged with DUI less safe, failure to maintain lane and open container, according to a report at the time by The Citizen
Former Fayetteville Police Department spokesman Mike Whitlow at the time said the charges resulted when Spillane was pulled over on a traffic stop for failure to maintain lane near Ga. Highway 85 and Price Road on the city's south side.
A video released by the police department showed Spillane taking a field sobriety test and conversing with a woman in the vehicle, reported to be his wife.
"He's going to put me in jail if I don't take (the field sobriety test)," Spillane said, amid a conversation with the woman. "I'm fine. Please leave me alone."
"You're going to put me in jail, seriously?" Spillane asked an officer as he was being handcuffed at the completion of the sobriety test.