SPONSORED FEATURE
More than 200 people gathered recently for a nostalgic celebration of one of the Fayette County Board of REALTORS® most well-known traditions of giving back to the community: Noel November. The event, held at Daisy Hill Venue November 16, was one of the finale celebrations of the Board of  REALTORS® 50th anniversary.
For 20 years, Noel November was a signature annual holiday event that raised hundreds of thousands of dollars for local charities. The daylong event featured entertainment from local children's groups, dancers, and musicians, festive arts and crafts, visits with Santa, and an auction of decorated trees, wreaths, and many other holiday gifts and valuable items. 
Christian City Children's Village, Fayette County Special Olympics, Fayette Family YMCA, Fayette Senior Services, Fayette Youth Protection Home (which became Bloom), Joseph Sams School, and Promise Place are among the many local nonprofits which received funds raised at these annual events. 
Kay McInroe, outgoing president of the Board of REALTORS®, told the gathering that an "itty bitty committee," came together to bring back the event "one last time." Kay was joined by Dorrie Love, Kaley Butcher, and Stephen Curcio in the effort that decked the hall with nearly a dozen trees, many wreaths, and other holiday items for auction. 
"The four of us started this idea and then it just grew," Kay told the crowd. "The 50th-anniversary committee under Mary Watts who has been amazing. Iris Owens, Angela Yoder helped us get all these gifts together and wrap it and we had a team to get the trees. It's one thing having a dream and it's another thing actually logistically figuring it out."
"Since I'd never been on the committee before I didn't understand the undertaking that I committed to," Dorrie Love said, chuckling. "It was great just to remember how much fun it was but then it also reminds everybody how hard it is to get it all together."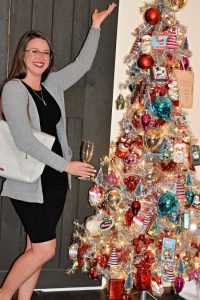 Stephen Walker, REALTOR® and emcee, auctioned off the items as a ready-to-bid crowd raised paddles around the room. Walker joined a choir REALTORS®, organized by Mary Watts and directed by Providence UMC's Woody Brown, to sing holiday favorites for the event. 
Shirley Rush, former president of the Board of REALTORS®, was one of the most senior professionals in attendance. Shirley holds the REALTOR® emeritus pin, an elite status earned by being an active member of a board for 40 years. 
"I've been doing it a long time," she said.
Shirley remembers the first two Noel Novembers were held at the Fayette Soccer Center in the 1980s. As the event grew, it moved to the Fayette Kiwanis Club Fairgrounds when it as on Redwine Rd., she said, and later to Flat Creek Country Club. 
"In the years past, we asked the brokers to all donate an item and donate a tree or anything Christmas," Shirley remembers. "A lot of times we had table settings, mantle decorations, wreaths, you name it."
In 1998, Noel November exceeded its fundraising goal of more than $10,000, according to online archives of TheCitizen.com. In 2006, The Citizen reported that Noel November raised $35,000 at the Kiwanis Fairgrounds for Fayette Family YMCA, Fayette Senior Services, Fayette Youth Protection Home, and Promise Place.
For the 50th-anniversary finale event, members of the FCBOR as well as affiliate partners sponsored professionally decorated trees and wreaths, gift baskets, and other holiday items. Proceeds from this year's auction provided funds for various programs the board provides to the more than 1,000 members. 
The board provides a full curriculum of continuing education and designation programs to members, 57% of whom hold important credentials earned through courses offered by the Fayette County Board of REALTORS®.
Shirley notes that the board has played a valuable role in the community through the years by keeping members informed about laws and other initiatives happening at a state level.
"The main thing is supporting us as REALTORS® because we go by a code of ethics," Shirley says. "A lot of people have a real estate license but they're not a REALTOR®." 
REALTORS® are held to a higher code of ethical standard than licensed agents and adhere to a code of ethics, according to the National Association of REALTORS®.
"We want to protect our buyers and homeowners so we have to stay informed and educated to know what will affect them," Shirley says. "The board helps the home buyers by educating us and giving us what we need to educate our buyers."
ABOUT THE FAYETTE COUNTY BOARD OF REALTORS 
The Fayette County Board of REALTORS® (FCBR) is proud to celebrate 50 years serving the local community. The organization was founded in 1969 by nine charter member brokers, all legends in local real estate history: Peggy Seay, Ed Mckown, Miriam Fulton, Reba Thompson, Buddy Trammell, Huie Bray, Cliff Bullard, Roland Brown, and Irene Mitchell. The FCBR is under the umbrella of the National Association of REALTORS® (NAR), founded in 1908, and the Georgia Association of REALTORS® (GAR), founded in 1921.
The Fayette County Board of REALTORS® serves more than 1,000 members and affiliates that serve the municipalities of Fayetteville, Peachtree City, Brooks, Tyrone, and Woolsey in the real estate industry. The FCBR team is experienced, motivated, and ready to connect you with the services and tools to enhance your business or homeownership needs.