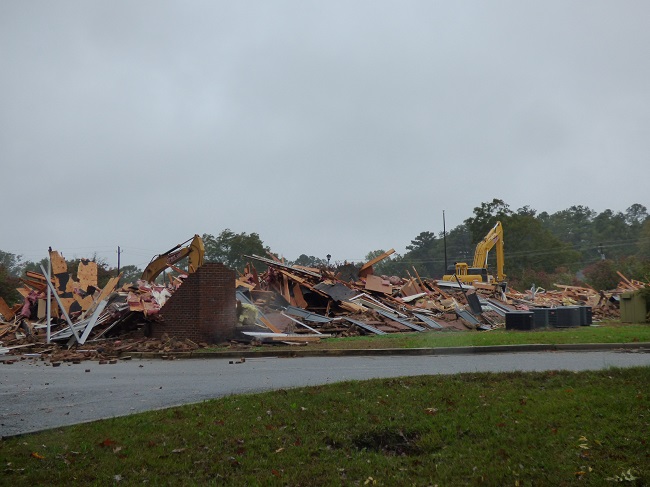 The walls of the former Fayette County Board of Education building on Stonewall Avenue in Fayetteville came tumbling down Oct. 30 to make room for what will become the new Fayetteville City Hall.
The site will be the home of the new 34,000 sq. ft., 2-story Fayetteville City Hall complex, expected to open in late 2020 or early 2021.
Once completed, the 10-acre site will also include the City Center Park to the rear of the property. The park will come with a wealth of features designed to attract large numbers to the area and, when complete, will be the largest outdoor meeting space in the downtown area.
A sampling of the park features includes numerous walkways and pedestrian pathways, a splash pad and playground, picnic pavilion, restrooms and changing rooms, a concrete stream, a grass mall with a performance area to accommodate 1,500-2,000 people, a walk-around pond and dog park, interconnected streets and a wealth of trees, shrubs and flowers.
Retained in the process are the old Fayette County gym and the school system's bus barn. Both will be redesigned and portions of both will be leased to as yet unnamed tenants.
The projects are expected to come with a $23 million price tag, of which $19 million will cover construction costs. The projects include a $1 million contingency. The projects will be financed through the city's Public Facilities Authority.
Commenting on the city's continued growth and the old City Hall building located along Ga. Highway 85 South, City Manager Ray Gibson recently said, "One key element we all agreed needed to be addressed was our current City Hall, which was originally a school house many decades ago. It has served the community well over the quarter of a century it has been used as a City Hall building, but we decided to look at the feasibility of constructing a purpose-built facility to better accommodate city staff, offer more engaging space for the public to enjoy and establish a new City Center to give our downtown more of a sense of place."