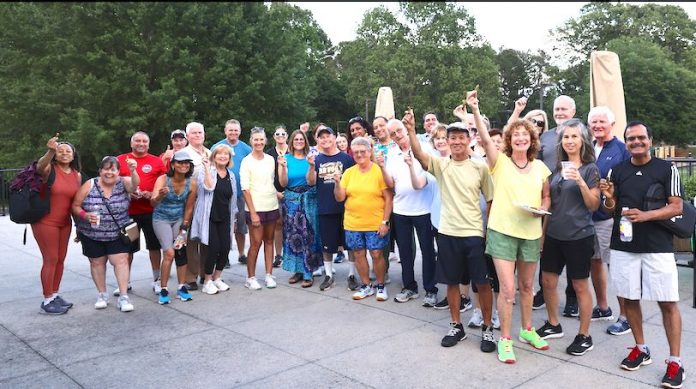 Perhaps as you have passed some tennis courts recently, you have noticed a game that looks a bit like tennis but on a much smaller court and seems to use a yellow plastic whiffle ball for play. You might also have noticed that many of the players seem on the older side. They jump for joy when they score a point and move elegantly around the court.
They are playing pickleball, which has been named the fastest growing sport by the Sports and Fitness Industry Association and in 2023 had an estimated 4.8 million players. Pickleball was invented in 1965 in the state of Washington and in 2022 had become Washington's state's official state sport.
Here in Fayette County, the sport has caught fire due to the Peachtree City-Fayetteville Pickleball Association that has dedicated itself to teaching the masses at Flat Creek Country Club and to securing additional locations where aficionados can play.
There is always competition to find pickleball courts as more and more of our county are discovering the fun and addictive quality of the play. Seniors who might not be able to play more rigorous sports are taking a deep dive into this exciting, active but not too active, game.
Whitewater Creek, a subdivision on the border between Peachtree City and Fayetteville with over 350 homes, has just constructed 6 professional pickleball courts. The Homeowners Association thought they might get ahead of the curve and took down two of their six tennis courts to make way for some beautiful blue state of the art pickleball courts.
One resident who enjoys the game, Vicki Leopold has formed a pickleball club in her neighborhood to teach the residents the game. She claims her goal is to teach as many people as possible in Whitewater Creek and bring the neighborhood together playing pickleball. "This is a cool sport because everyone can play and have a great time while meeting their neighbors."
May 20 was a pickleball party and the neighborhood was invited to attend and learn the game. Some great local players, Cathy and Augie Casado, Madhvi Bahugun, and Chris Pham were invited to teach. 35 residents of Whitewater Creek came down to the courts to learn and socialize. Every court was full. "Its all about having fun and meeting your neighbors", said Vicki Leopold. — Story submitted by Vicki Leopold.