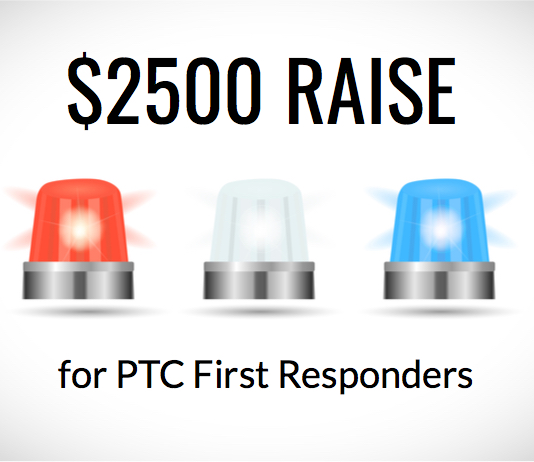 Yearly increase comes with 104 added work hours; all first responders will get pay increase
Finding and keeping qualified public safety officers is getting harder, as the Peachtree City Council acknowledged June 4 with a unanimous vote to raise salaries for new hires to the police and fire/EMS departments.
"It is necessary and appropriate," said City Manager Jon Rorie. "It's the right thing to do if we want to maintain our competitiveness in the market."
To keep from becoming "the employer of last resort," Rorie recommended a hike in starting salaries amounting to $2,500 per year, resulting in a budget hit of $411,000. The pay bump applies to police officers and firefighter-emergency medical technicians and goes into effect no later than September.
Starting pay goes from just under $40,000 annually for a certified police officer to $42,119. With that comes an increase of work hours to 84 within a 2-week span, or 104 additional work hours per year.
Starting pay for a new firefighter/EMT is the same as for a police officer.
It's an across-the-board pay raise for all employees of both departments. All will get the $2,500 increase.
The attraction and retention problem is not confined to Peachtree City. The Fayette County Sheriff's Department lost two dozen deputies last year to other jurisdictions, and the Fayette County Commission is expected to raise county taxes to pay for pay hikes for deputies that will bring them to within a few dollars of the new Peachtree City starting mark. In addition Fayetteville recently raised the pay rate for its officers.
"It's not really a pay raise," Councilman Terry Ernst said. "They're working extra hours. It's a smart thing, overdue."
"If we want the best trained, most qualified officers and we want them to stay, we have to pay them," Councilman Kevin Madden said. "There's a cost to that."
"This problem is not just Peachtree City," Mayor Vanessa Fleisch said. "It's across the country."
In a related move, the council voted to move ahead with developing the specifications for a new fire station, fire truck and other equipment that will be paid for with impact fees from new developments.
In other action, the city awarded bids totalling $1.1 million for relining two miles of stormwater pipes to extend their service life.