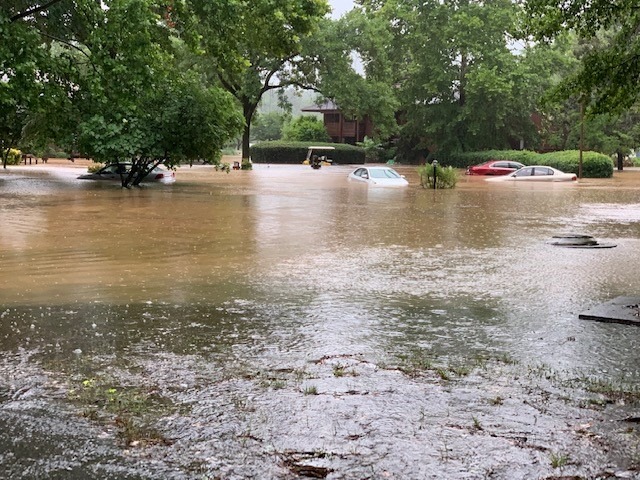 Portions of Tinsley Mill Village under water on June 8. Photo/Peachtree City Police Department.
The heavy rains that moved through Fayette County Friday night and Saturday dumped plenty of rain across the landscape and caused significant flooding in the Tinsley Mill Village community in Peachtree City.
Located off Flat Creek Road near Ga. Highway 54 and City Hall, Tinsley Mill has long been prone to flooding, given its location adjacent to the northwest side of Lake Peachtree.
Photos provided by the Peachtree City Police Department on Saturday showed homes surrounded by water and cars with water nearly up to the windows.
Rainfall totals in Peachtree City from 12:01 a.m. until 4:30 p.m. on Saturday totaled 4.27 inches, with another 1.4 inches having fallen in the previous 24-hour period, according to the National Weather Service at Falcon Field.
A stormwater culvert a short distance away on Flat Creek Road gave way, causing the road to be blocked.
In other areas of Fayette County, one westbound lane of Hwy. 54 East and Banks Road was closed due to flooding but was re-opened Saturday afternoon.
For all the rain that came Friday and Saturday, there is more on the way for the next few days.