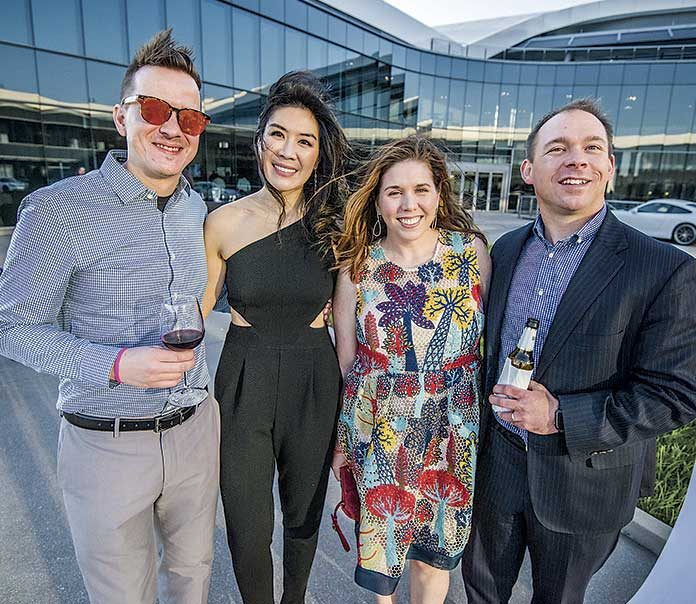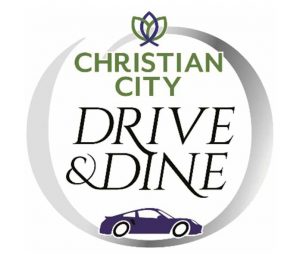 Guests from Buckhead and Midtown to Coweta and Fayette filled the Porsche Experience Center on April 27 to raise support for Christian City Children & Family Programs. Proceeds from the 2nd annual Drive & Dine event will help provide abused and abandoned children a safe home in a loving family environment to heal their wounded spirits and thrive. The non-profit serves the entire metro Atlanta area and beyond from its 500-acre campus in south Fulton County.
Guests had an opportunity to take a thrill ride around the 1.6-mile track with a professional driver at the wheel of a Porsche, followed by an elegant seated dinner in the atrium catered by Restaurant 356. A silent auction and live auction provided additional opportunities for guests to further support the mission of Christian City.
Event co-chairs, Alison and Kenn Bruley, welcomed and thanked guests for joining them in supporting Drive & Dine. Delores Epps, Chair of the Christian City Board of Trustees, welcomed guests to the elegant seated dinner on the dramatic mezzanine level of the Porsche NA corporate headquarters adjacent to Hartsfield Jackson Atlanta International Airport. "Our goal is safety from abuse, neglect and sex trafficking in our city," said Epps. "Our job is not done until every child feels safe; and we cannot do it without you and your support," she said.
Cheryl Preheim, evening anchor of WXIA 11Alive News and Fayette County resident, served as emcee for the second year. As she welcomed guests at dinner, Preheim said, "To have a resource like Christian City is a gift and a change maker."
The heart of the event program was Preheim's live interview of house parents, Jeanette and Jim Christensen, and their family. Their 18-year-old son, Edwin, who came to live in their home at Christian City Children's Village two years ago, joined the couple and their two adopted children on stage. Speaking of his house parents, Edwin said, "They show us hope and love, and they make me feel important." After high school graduation this year, Edwin is planning to explore a career in law enforcement. 
Sarah Booth, Fayetteville Resident and Program Executive of the Residential, Safe Place, and Thrive Programs, is a shining example of the difference Christian City Children's Village can make in a child's life. Following Preheim's interview, Booth spoke about coming to live at the Children's Village when she was twelve, because her parents were abusive. "In the beginning, I didn't love it, but that changed. Christian City gave me a foundation," she said.
After high school, Booth graduated from Emory University's Goizueta School of Business. Following a few years working in Atlanta, she came back "home" to Christian City to become Director of the Safe Place Program. Since then, she has earned a Master's degree in professional counseling and was promoted to Program Executive in 2018. "We are excited to see where Edwin will go. He is full of potential," Booth said. Thinking a couple of weeks ahead, she said, "Mom and I are making plans for Mother's Day. Christian City made that possible. She was my house mom at the Children's Village and she's still my mom."
Expressing appreciation for the sponsors, volunteers, guests and staff who made the event a success, LaVann Landrum, Chief Development Officer of Christian City, said, "We are thrilled to be able to host our guests for an exciting and elegant event at the PEC. While it is a fun experience, they are also making a positive difference in the lives of children and families."
 About Christian City
Christian City was established 54 years ago when the first cottage for abused and abandoned children opened on Valentine's Day, 1965. Today, there are more than 1,000 residents, both children and older adults, living at Christian City, a nonprofit organization that depends on the generosity of donors for financial support. The 500-acre campus, located 15 minutes from Hartsfield-Jackson Atlanta International Airport and adjacent to the border with Fayette County, includes the Children's Village Residential Program, Crossroads Foster Care & Adoption Program, Safe Place Runaway & Homeless Youth Program, Thrive Transitional Living Program, active senior living patio homes and apartments, thrift store, assisted living center, skilled nursing center, memory care, home health and hospice care. For more information, visit www.christiancity.org or call 770-703-AMEN.