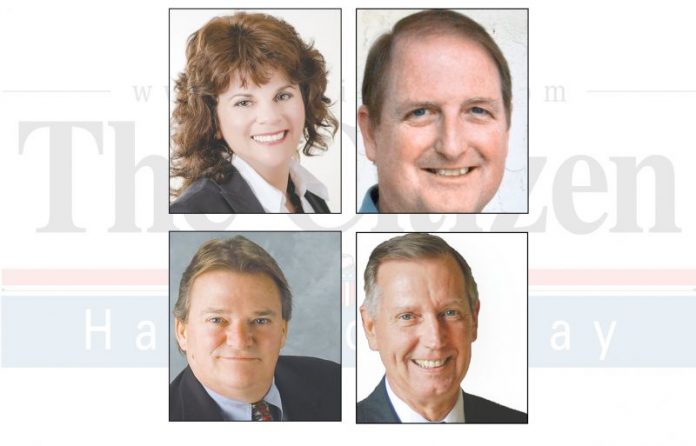 CORRECTION UPDATE — Peachtree City voters have their last chance to cast a ballot this Tuesday in the runoff election for mayor and City Council Post 3, both four-year terms.
---
Above, clockwise from top left, Mayor Vanessa Fleisch, former Councilman Eric Imker, former Mayor Harold Logsdon and aviation company executive Kevin Madden. Photos/Submitted.
---
Vying for a repeat term in the top post in city government is incumbent Mayor Vanessa Fleisch, who led the field of three last month with 43 percent of the votes cast. Winning a spot in the Dec. 5 runoff is former Councilman Eric Imker with 31 percent. Businessman Dar Thompson came in third at 26 percent and was eliminated from the contest.
The winner will be sworn in for another four-year term beginning Jan. 1.
Seeking the Post 3 seat on the council are runoff contenders Kevin Madden, an aviation executive and current official of the Fayette County Democratic Committee, and Harold Logsdon, a former mayor of Peachtree City.
Madden led the vote tally in the nonpartisan city election with 40 percent, followed by Logsdon with 32 percent. College student Sarah Toussaint came in third with 27 percent, and thus did not qualify for the runoff.
Election turnout last month was 24 percent, a respectable number given that it was an off-year election.
Early voting for the Peachtree City runoff ended last week. Polls open at 7 a.m. Tuesday in Peachtree City, and all registered voters in the city are eligible to vote in the runoff. You can vote in the runoff even if you did not vote in the November balloting.
CORRECTED ARTICLE removes erroneous information about Kevin Madden. Madden never was a candidate for the 3rd District U.S. Congress seat.