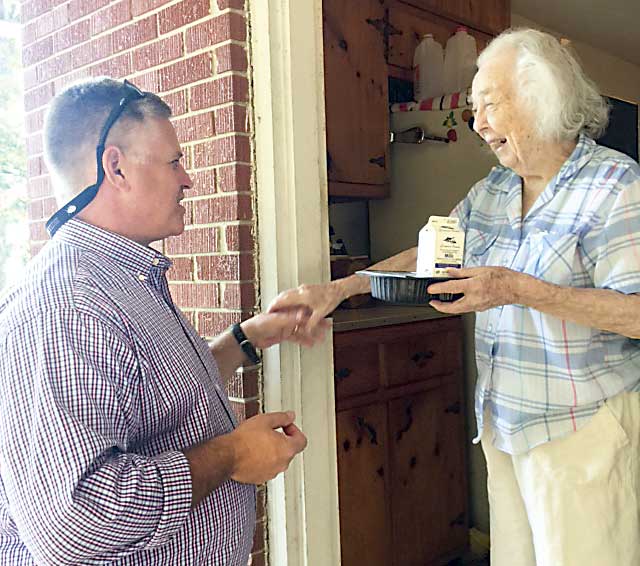 Many around Fayette County know of the nonprofit Fayette Senior Services (FSS) Meals on Wheels program providing meals to seniors in need. Perhaps less well-known, but no less important, is the Project Love fundraiser that also provides needed meals to homebound seniors during holidays.
---
Above, Congressman Drew Ferguson, a stand-in driver for Fayette County Meals on Wheels, recently delivered a meal to Tyrone resident Doris West. Ferguson represents Fayette and Coweta counties in Congress. Photo/Submitted.
---
FSS Meals on Wheels delivers more than 56,000 meals, Mondays through Fridays, to homebound adults annually.
"Many seniors suffer from health conditions that make preparing hot, nutritious meals difficult," said Meals on Wheels Coordinator Natalie Hynson. "Good nutrition is essential to anyone's wellbeing, yet for many seniors who live on a limited source of income, maintaining a healthy diet is a daily challenge."
Beyond the weekday meal deliveries, provided from funding from the county, municipalities and federal funds, Project Love through its fundraising efforts, aims to also provide a nutritious meal to those in need on holidays and on some weekends, Hynson explained. Regular funding does not cover those meals, she added.
"Project love provides for holiday meals throughout the year and some weekend meals for our most isolated clients," said Hynson. "While other fundraising helps support weekday Meals on Wheels for our seniors, there are no funds for holiday deliveries except those raised through Project Love. For as little as $5 you can help to ensure that no senior goes hungry is is without proper nutrition."
Each $5 meal pack includes a variety of meals that meet recommended daily allowance criteria. Project Love also offers meals that meet special dietary restrictions. Meal packs are oven or microwave-ready and delivered frozen so they may be used at a time best-suited for the recipient, Hynson said.
Hynson said contributions to Project Love help purchase holiday meals for more than 300 Meals on Wheels recipients. Donation also provide doctor-prescribed Ensure dietary supplements and "shelf meals" that do not need refrigeration and can be kept on the shelf in the event of an emergency or for times that Meals on Wheels cannot deliver, such as during inclement weather.
To purchase a holiday meal pack, contribute to the year-round Meals on Wheels effort or to volunteer, call Fayette Senior Services at 770-461-0813 or visit www.Fayss.org.