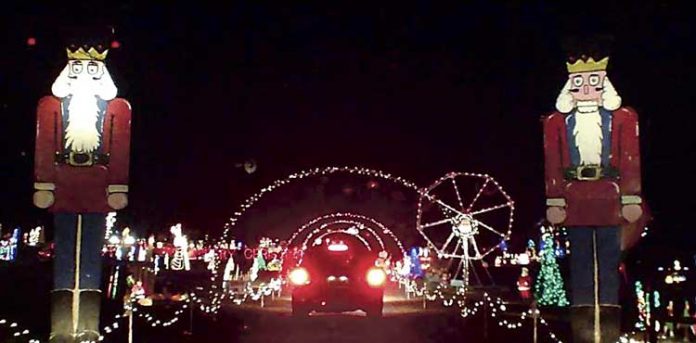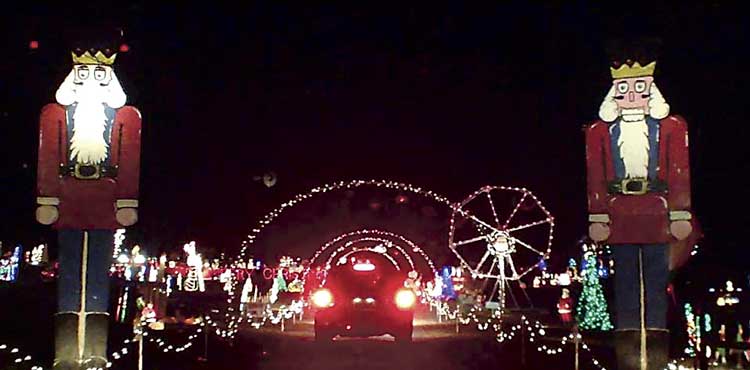 Gaddys light up Sandy Creek Road, compete in ABC-TV contest
For the past 29 years, the Gaddy Christmas Light Extravaganza on Sandy Creek Road has brought a display of endless holiday lights and scenes to visitors. This year, the extravaganza will be featured on WSB television on Dec. 4 as part of The Great Christmas Light Fight, a nationally-televised show on ABC.
---
Above, the Gaddy Christmas Light Extravaganza, now in its 29th year on Sandy Creek Road, will be featured on a nationally-aired television show on Dec. 4. Photo/Submitted.
---
"Back in January, Mike and I were contacted by The Great Christmas Light Fight, which is a nationally-televised Christmas decoration competition," Gwen Gaddy said on Facebook.
"It was really funny when we got the call because we had just had the discussion of how stressful something like that would be and how we would not want to do such a thing," Gwen said.
"Well, all those words went out the window when we were asked to go through the application process. Of course we said we would apply and that was followed by a Skype interview with our whole family, which turned out to be really fun," Gwen Gaddy said.
"At that time they told us that we would not be notified until August to let us know if we were selected or not. Well, that was a long wait. When we finally got the call in the first week of August, they said we had been selected and that they would be here to film on Oct. 3-6. That gave us about half the time that we usually take to put up the display. Mike lost 12 pounds in 4 weeks," she said.
Commenting on having the Christmas display featured nationally, Gwen said, "It really was a great experience for our family. Truly a once in a lifetime."
The drive-thru Christmas display at 898 Sandy Creek Road is open at no charge from 6-10 p.m. through Jan. 1. Hours are extended on weekends and closer to the holiday. People are asked that everyone remain in their vehicle and drive slowly for safety reasons.
The annual Christmas light exhibit is also a fundraiser for Toys for Tots and March of Dimes. Donations for Toys for Tots, new and unwrapped toys and monetary donations, will continue through Dec. 20. Checks should be made out to Toys for Tots. Gwen said U.S. Marines will be on-site on Dec. 1 from 6:30-10 p.m. to collect donations raised through that date.
Donations for the March of Dimes will continue through Jan. 1. March of Dimes only collects monetary donations, with checks made out to March of Dimes.
Keep up with the Gaddy Christmas Light Extravaganza on Facebook.