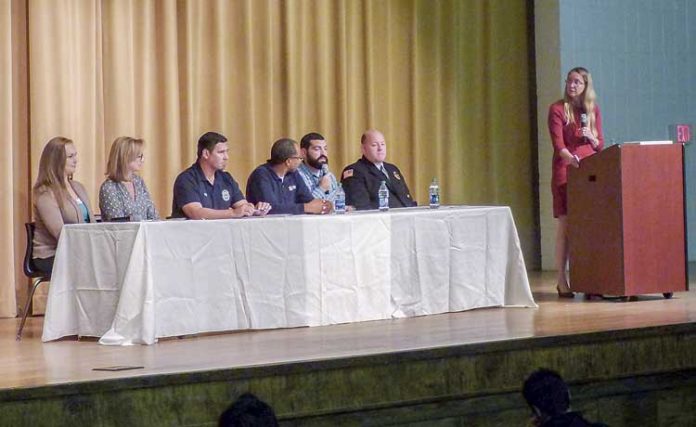 10 deaths a year in Fayette from opioid overdoses; dealing with denial
A group of 200 students, parents, community organizations and elected officials attended the Oct. 19 "Not Our Town, Not Our Kids: Pain Killers, Heroin and Overdose" forum at Sams Auditorium in Fayetteville. The forum dealt with the misconceptions, and realities, of the opioid epidemic that is sweeping America, and signaled an outlook that can begin to combat that epidemic's devastation.
---
Above, panel members fielded questions at the Oct. 19 opioid epidemic forum sponsored by Fayette County schools and Drug Free Fayette. Panel members, from left, included Amanda Williamson, Donna Michel, Ken Morrow, Raymonde Neely, Nick Russo, Lt. David Winkles and moderator Catherine Sanderson. Photo/Ben Nelms.
---
The forum was presented by Drug Free Fayette Coalition and the Fayette County School System. Drug Free Fayette is a network of 28 people in leadership positions throughout the county.
Representing Drug Free Fayette, Michael Mumper at the outset of the meeting said, "With knowledge, this epidemic doesn't have to hit us as hard as it's hit some communities."
Mumper noted that there are 10 opioid-related deaths in Fayette each year.
Moderated by attorney Catherine Sanderson, the meeting's panel included drug court participant Amanda Williamson, Griffin Circuit Drug Court Administrator Donna Michel, Drug Enforcement Administration (DEA) Task Force Officer Ken Morrow, Fellowship of Christian Athletes representative Raymonde Neely, The Insight Program representative Nick Russo and Peachtree City Fire Rescue EMS Lt. David Winkles.
Each panel member shared opening remarks prior to taking questions from the audience.
One of the audience questions asked the youngest age panel members had seen opioid use being manifested in the community.
As young as 12 or 13 years old, Williamson said. Also weighing-in, Winkles said he had seen it with teens, adding that it likely exists at younger ages, depending on the child's associates.
Neely said he had seen one child as young as age 7, who was introduced to opioids by his parents.
Questions about the denial of the problems also arose at the forum and in questions from the audience.
"It's not scary to kids anymore," Williamson said of the attempts to put enough fear in children to help them steer clear of opioids. "We need to approach it in a different way, like what we're doing here today."
Russo in response to another question explained that some parents have said they had a gut feeling that something was off with their child. That feeling is one parents should pay attention to, he said.
The reality of overdose death is crushing for the friends and family of the person who has died. The view, the understanding, of what leads to that death, is beginning to change, including with those in law enforcement, said Morrow.
"At some point the person no longer has a choice in what they become. It's easy to say the person caused their own death," Morrow said of the nearly unfathomable power of addiction over a person. He said some in law enforcement are changing the way they view opioid addiction and overdose. "The tide is turning in our attitude, in the way we're looking at the epidemic."
Winkles also shared a thought on the topic, saying, "Over time we're coming to realize that overdose is a medical emergency. Taking someone to jail isn't going to fix the problem."
One in the audience asked how someone in the throes of opioid addiction can trust someone wanting to help. Williamson, a person who knows the reality of opioid use and has overcome it, offered a personal perspective.
"I didn't want to trust anyone to help me. I didn't think I needed it," she said, then turning her comments to those who might find a way to provide that help by intervening, regardless of the protest that will likely arise. "When you see the signs with the person, get involved."
While there is much misunderstanding and confusion across communities dealing with opioid use, overdose and death, it is all too relevant to note that past approaches by many must change. That point was driven home by Morrow, who shared his belief that America is 15-20 years into the opioid epidemic.
"We have to be fearlessly discerning and courageously uncomfortable to address the realities," Neely said.
Those wanting to learn more about the opioid epidemic and ways to combat it are encouraged to visit www.drugfreefayette.org.