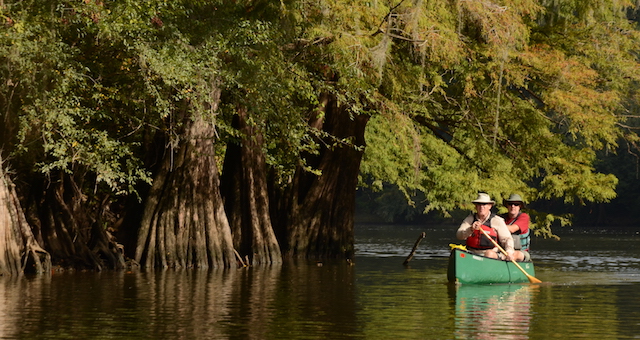 Around 120 paddlers from across Georgia and the Southeast will embark this Saturday on the Flint River near Albany for a three-day, 56-mile journey to Bainbridge.
Fall Float on the Flint will include daily paddle trips averaging about 17 miles, and each night participants will camp at Rocky Bend Flint River Retreat in Newton as they make their way down what many consider the most beautiful section of the 350-mile-long Flint. The event, which runs from Oct. 7-10, is organized by Georgia River Network (GRN) and Flint Riverkeeper.
Billed as an educational adventure for the whole family, the trip will also include stops at the Jones Ecological Research Center, Covey Rise Plantation and other natural features so that paddlers can learn about the river and issues impacting it. Participants will also have the opportunity to become trained as a Georgia Adopt-A-Stream citizen water monitors.
Among those who will participate in the Georgia Adopt-A-Stream training is a group of five students and one teacher from Baker County High School in Newton who received scholarships to participate in the journey through a grant from Weyerhaeuser. The forest products company operates a pulp mill along the Flint near Oglethorpe.
"This trip is about getting people on our rivers," said event coordinator Joe Cook. "When people spend time on a river, they develop a relationship with it, they fall in love with it and they want to protect it."
Fall Float on the Flint is an offshoot of GRN's annual Paddle Georgia event, a week-long canoe/kayak journey that takes place on a different Georgia river each summer. This will be the third Fall Float on the Flint adventure.
Since GRN's first Paddle Georgia trip in 2005, the organization has introduced more than 4,400 paddlers to more than 1200 miles of water trails on 13 different Georgia rivers. GRN's Paddle Georgia events have generated more than $330,000 for river protection. The event serves as a fundraiser for both GRN and Flint Riverkeeper.
"We may be a little prejudiced, but we believe the Flint is the prettiest river in the state," said Flint Riverkeeper Gordon Rogers. "This trip is a chance to show off its charms and enlist more citizens in protecting it."