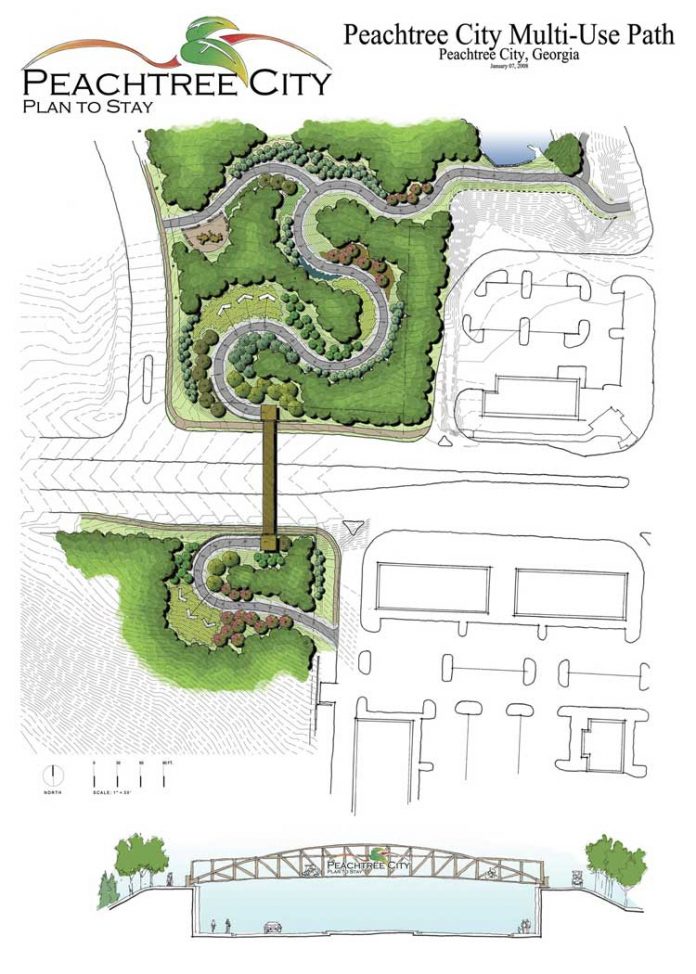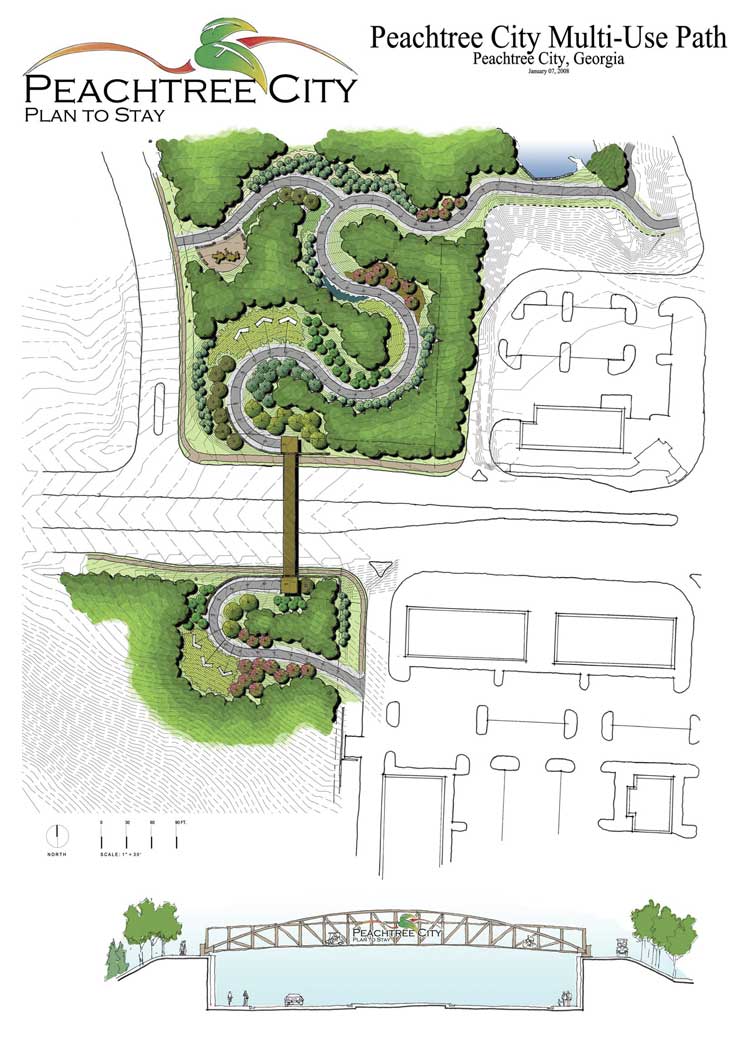 It may be up to a couple of years away, but Peachtree City residents on the city's west side will have a bridge crossing Ga. Highway 54 near MacDuff Parkway.
---
Above, the gateway bridge on Peachtree City's west side is planned for 2018 or 2019 and will include cart path access on both sides of Ga. Highway 54 West. Graphic/Peachtree City.
---
The $1.97 million project, a part of the city's voter-approved SPLOST (special purpose local option sales tax) project list calls for a gateway bridge to be installed west of MacDuff Parkway and just to the east of Wynnmeade Parkway. The proposed project years come in 2018 or 2019.
The bridge, with initial plans coming years earlier, will be constructed on land previously purchased by the city.
The north side of Hwy. 54 will have a series of cart paths installed between MacDuff and Wynnmeade that connect to the bridge crossing. A path will also be installed on the south side of Hwy. 54 that will connect to the retail area.
Another SPLOST project, one that carries a 2018 timeline, will have upgrades made to the intersection of Hwy. 54 West and MacDuff Parkway.
The $650,000 SPLOST project will include the installation of double left-turn lanes on MacDuff to alleviate double queueing for those traveling east that has plagued the intersection for years.
Other traffic flow improvements at the intersection will include the extension of the left-turn bay for traffic entering the parkway from Hwy. 54 and signal modifications, according to the city's SPLOST program.
An associated project, essentially completed, deals with the long-awaited extension of MacDuff Parkway. The bridge at Senoia Road and MacDuff Parkway was recently opened and is awaiting the installation of a traffic signal at the intersection. Cones are expected to remain in the left-turn lanes until the traffic signal is installed.
Traffic signal or not, the now-completed MacDuff Parkway is already seeing increasing traffic along the roadway. It provides for a second entrance and exit to the west village area, rather than motorists having to use the one access point at Hwy. 54, after negotiating the intersection and multiple traffic signals in and around the intersection of highways 54 and 74.