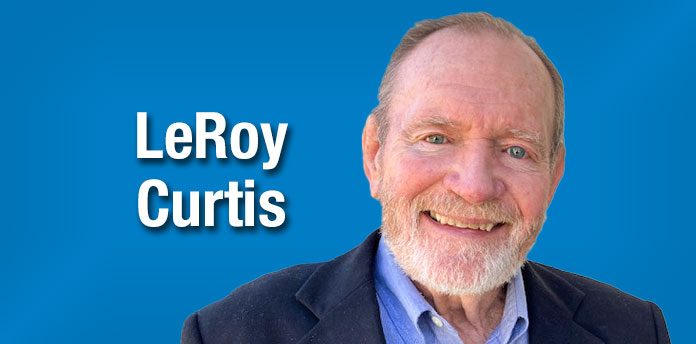 Give thanks to the LORD, for He is good; His love endures forever. (Psalm 118:29)
Dear Friends, even in these times when it seems like the entire world is "going to hell in a handbasket" God's mercy and grace are still at work.
For passive Christians that fact can easily get lost when trouble invades personal reality. Insecurity and ignorance about the power of God can be blinding to the truth that Romans 8:28 is always in play. If we truly love God and are confident of being called to His purpose, which is to reconcile the world to Himself through Jesus Christ, our Lord and Savior, our faith is much less likely to be shaken.
The Apostle Paul challenges us with an extremely direct instruction: Be joyful always; pray continually and give thanks in all circumstances, for this is God's will for you in Christ Jesus. (1 Thessalonians 5:16-18) Most of us understand the need to pray regularly, especially when troubling circumstances affect us or those we love. But continually? That sounds humanly impossible. Who has time to pray continually?
Examining the gist of the text leads me to conclude that Paul is telling us to order our lives in such a way that keeps us in constant touch with our Father in Heaven.
Incredibly, the creator of the universe wants to have a personal relationship with us. He invites us to ask us for anything and everything we want or need. Philippians 4:6-7 is clear: "Do not be anxious about anything, but in everything, by prayer and petition, with thanksgiving, present your requests to God. And the peace of God, which transcends all understanding, will guard your hearts and your minds in Christ Jesus."
What are we requesting? If it is something that can be self-destructive or harmful to others our Heavenly Father who dearly loves us could hardly give His consent. However, if we pray with a desire to seek His will above all, spiritual power can be released through our earnest prayers.
I am living evidence of that. Last month I sought prayer from all my Christian friends, that the Lord would heal a serious bout of cardiac arrythmia that was not responding to medical treatment. Too often prayer becomes our last resort rather than our first.
I am so thankful for the prayers that went up to the Lord from all over the world. They did what no earthly remedy could do. Within just a few days my heart settled into sinus rhythm, much to the wonder of my cardiologist.
I am confident God has more work for me toward advancing His Kingdom throughout the world. I am also aware that as the years roll by, I must be prudent and not reckless in pursuit of this calling until He invites me to my home in Heaven. Please continue to remember me in your prayers; they sustain me beyond our understanding.
Knowing that God has our best interests in His eternal plans we can actually be joyful, even in the worst possible situations. I am fully aware that challenges to my well-being are lurking out there, ready to attack when least expected. Yet, my confidence is God's faithfulness to His promises, that He will deliver me from evil at the end of it all.
My hope is not ultimately in this dark world, anyway. It is passing away to make way for the new world that is coming soon. My mission is to prepare those who are seeking the Kingdom of God, to know Him, and to understand His will as it is expressed in His Word, the Bible, and to proclaim it with power and authority to those in their community.
Above everything else, I can give thanks for so many things that God has done in my life. Firstly, He answered my mother's desperate prayers when I was at the threshold of death as a toddler, suffering from double pneumonia. She committed me to God's purposes if He would only spare my life. He took her up on her promise, even to her surprise.
Here I am, a humble servant of the Lord, equipped, prepared, Spirit-filled, and dedicated to finish my race of faithful ministry as strongly as possible. I choose to adopt the attitude that Paul so well-articulated: "Not that I have already obtained all this, or have already been made perfect, but I press on to take hold of that for which Christ Jesus took hold of me. Brothers, I do not consider myself yet to have taken hold of it. But one thing I do: Forgetting what is behind and straining toward what is ahead, I press on toward the goal to win the prize for which God has called me heavenward in Christ Jesus." (Philippians 3:12-14)
God's plans are too big for human minds to fully comprehend. His blessings are often cloaked in what seem to be unresolvable problems … right before they prove to be merely obstacles of resistance, making our faith stronger.
We can never know what He might have in store for us if we trust Him and take Him at His Word. It is important to understand the basis of our faith in His plans for us. Hebrews 11:1 is about as clear as it can get: "Now faith is being sure of what we hope for and certain of what we do not see."
Hope is the vital ingredient in our faith. King David understood this. He writes: "Find rest, O my soul, in God alone; my hope comes from Him. He alone is my rock and my salvation; He is my fortress; I will not be shaken. My salvation and my honor depend on God; He is my mighty rock, my refuge. Trust in Him at all times, O people; pour out your hearts to Him, for God is our refuge." (Psalm 62:5-8)
Understanding that brings peace, joy, and a whole lot of thanksgiving. I want to rest in that, even as I press toward the prize, the affirmation of my Lord God, "Well done, good and faithful servant." (Matthew 25:23)
As the Lord continues to give me life and strength, I will press on to fulfill my destiny in Christ, sincerely wanting to pass on my vision and spiritual energy to the next generation. My prayer is that they will faithfully preach and teach the Word of God until the Lord returns to the world in all His glory.
Thank you for encouraging me with your prayers and material support as I continue to pursue that goal. As you enjoy this season of Thanksgiving, please remember that you and your prayers make much more difference than you might appreciate. Be joyful, pray faithfully, and be thankful for everything God has done for you and yours, knowing that this world is not our ultimate home.
God bless you.
LeRoy
[LeRoy Curtis is a graduate of the University of North Carolina, Chapel Hill, and Asbury Theological Seminary. He served four years as a U.S. Naval Officer after which he became a pastor, Bible professor, educator, author, and missionary living in E. Africa for eight years where he and his wife developed a curriculum of biblical studies for untrained pastors in rural Kenya. His passion for training young church leaders takes him to various parts of the U.S., Latin America, and Africa. He and Judy are currently residing in Carrollton, Georgia.]