 Dina Marie DiGrazia-Curtin passed away on Wednesday, September 6, 2023 in Sebring, Florida at the age of 56 surrounded by family.
She is the daughter of Thomas Sam DiGrazia (deceased) and Eleanor Angela Guarin. She was born on August 12, 1967 in Rochester, New York. She was a member of Our Lady of Grace Catholic Church and a resident of Sebring for 2-1/2 years, having come from Golden, Colorado.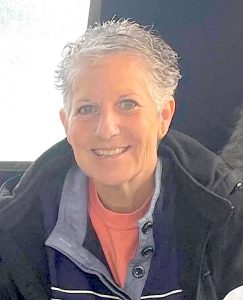 She is survived by her loving husband Dennis; sons — Joseph Curtin (Jennifer) of San Antonio, Texas; Thomas Curtin of Denver, Colorado; sisters — Deborah Wood (Steve) of Sarasota, Florida; Maryann Halloran (Joseph) of Rochester, New York; Sue Digrazia of Sebring, Florida. Also surviving are several nieces and nephews.
Dina was someone who could not sit still. She always had to keep herself occupied by doing something. In the mid-late 90's she was heavily involved with teaching water aerobics in Peachtree City and Fayetteville.
Later, her passion for self-development led her to start training and competing in Powerlifting events. She still holds numerous records for her weight class. She loved to train and compete with herself. No one was going to show up Dina.
She always had an affection for her Harley Davidson bike; it was something she cared about as much as her family. To not be outdone, Dina was a police officer for 7 years, 6 of them were in Peachtree City. She loved serving and protecting her community.
When she moved to Colorado, she recognized that her true love was dogs, which again led her in a new direction by becoming a groomer. If you knew Dina, there was no better job than to see dogs everyday. Through these many journeys Dina has made numerous friends, we appreciate all your prayers and support through this time.
A visitation to be held from 3:00 to 5:00 PM, with the Rosary at 4:45, on Monday, September 11, 2023 at Stephenson-Nelson Funeral Home with the funeral service to follow at 10:00 am on Tuesday, September 12, 2023 at St Catherine Catholic Church with Father Jose officiating. Memorial contributions may be made to Good Shepherd Hospice. https://www.chaptershealth.org/for-volunteers-donors/personal-giving/
Arrangements entrusted to:
Stephenson-Nelson Funeral Home
4001 Sebring Parkway
Sebring, FL 33870
Online condolences may be left at: