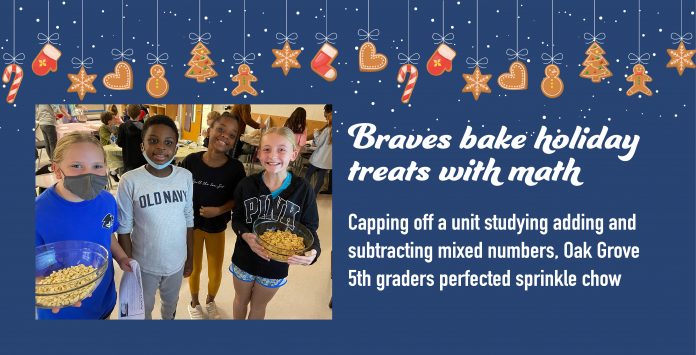 The Oak Grove bakery makes the sweetest treats in town. As the culminating activity of their math unit studying adding and subtracting mixed numbers with unlike denominators, 5th graders perfected a recipe for "sprinkle chow" as a real-life application of fractions.
Throughout the mini-project, students worked as a group to add and subtract mixed numbers to find totals and missing parts of the recipe. They then compared prices in a grocery store ad to find the best deal on the ingredients needed. Finally, students followed the recipe to make a delicious batch of sprinkle chow.
Every 5th grade student participated, and parents donated items to make the project possible.
Teacher Natalie Whitson loved seeing students put their math lessons to practice.
"I hope they were able to experience real-life application of fractions and to see how what we are learning in class can be applied to their everyday life."