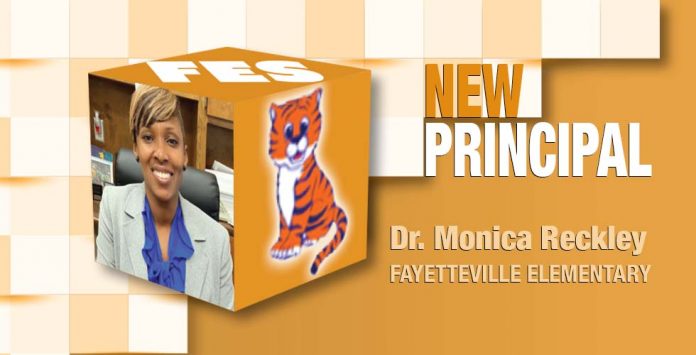 Fayetteville Elementary School (FES) has a new principal at the helm, and she is eager to start building relationships with the school's team of students, parents and staff.
Dr. Monica Reckley, who has served as the assistant principal at North Fayette Elementary for the last four years, was approved as the new principal of FES by the Fayette County Board of Education at the November 30 business meeting. The position became available earlier in November when previous principal Tabatha Lawrence resigned.
"Being the principal of a great school such as Fayetteville Elementary School is an amazing honor. The school has such a rich history in our county. I look forward to using the Leader in Me Program and Parent Teacher Organization to empower students for lifelong success," said Dr. Reckley. "It is a part of my plan to collaborate with the Fayetteville Elementary community to determine what additional initiatives may be of interest to ensure that student achievement is continuous. Just as the school motto proclaims, I will join the rest of the FES faculty in promoting productive problem solvers."
Dr. Reckley has over 15 years of experience addressing student needs, collaborating with stakeholders, and demonstrating leadership skills. She started her teaching career at Vine Middle School in Knoxville, TN before moving to Georgia in 2008 and becoming a teacher leader at Flat Rock Middle.
Her natural ability to lead landed her a spot in the Fayette County Public Schools' Administrative Intern Program, which cultivates promising teachers for possible assistant principal positions within the school system. She left Flat Rock in 2017 to become the assistant principal at North Fayette Elementary.
Dr. Lisa Moore, principal at North Fayette Elementary, says that the FES community will discover quickly that Dr. Reckley is an amazing educational leader.
"If you look up the word passionate, you will find her picture there because she is beyond passionate about education and doing what is right for kids," said Dr. Moore. "Dr. Reckley is a go-getter and wants to see all students succeed. She has been an asset to North Fayette Elementary School, and I know she will continue to do great things at FES."
Dr. Reckley earned both her bachelor's degree in pre-teaching mathematics, and master's degree of science in education from the University of Tennessee. She holds a Ph.D. in administrative leadership for teaching and learning from Walden University.