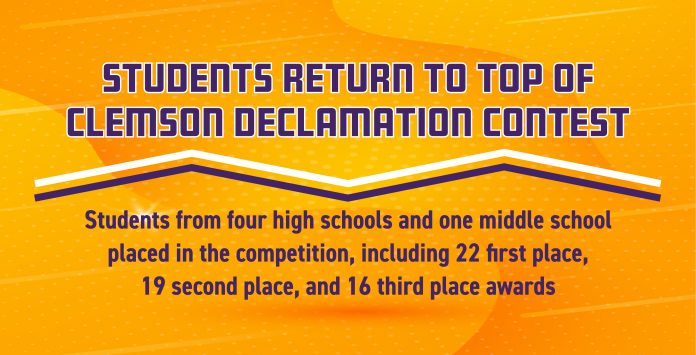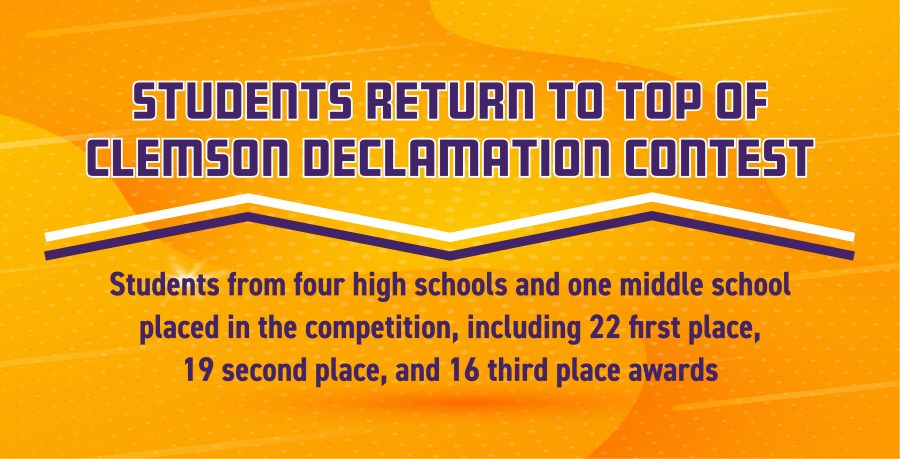 The format changed, but the results remained the same, with local students dominating the Clemson University Poetry Declamation Contest.
Clemson University's Department of Foreign Languages poetry declamation contest gives students the opportunity to perform poetry in their language of study and receive feedback from leading language educators. Participants perform two poems from memory, specified according to students' level of language study. They are evaluated based on pronunciation, interpretation of text, smoothness of delivery, and textural accuracy.
After last year's edition was cancelled due to COVID-19, the contest returned this year in an online format. This year's competition drew students from throughout Georgia and South Carolina.
Local students from four high schools and one middle school placed in the competition, including 22 first place, 19 second place, and 16 third place awards.
The 2021 Clemson Poetry Declamation Contest placements are as follows:
McIntosh High
French-1: Keira Lee 1st Place; Mariel Bowman 2nd; John Orozco 3rd
German-3: Zeke Korte 1st
German-Native: Sophie Thompson 2nd; Mae Hartley 3rd
Latin-1: Elizabeth Roshak 1st
Latin-4: Henry Roggermeier 1st
Spanish-1: Bailey Best 1st; Eric Van Hall 1st; Tiffany Ngo 1st; Corynn Luna 2nd
Spanish-2: Sage Shah 1st; Sophie Thompson 2nd; Kara Margrave 2nd; Davina Nguyen 2nd; Sophia Farinacci 2nd; Shae Staples 3rd; Gracyn Jewell 3rd; Spencer Oaks 3rd
Spanish-3: London Whilby 1st; Amira Attia 1st; Youngin Kim 2nd; Kaya McClincy 3rd
Spanish-4: Katarina Thompson 1st; Emily White 1st
Spanish-Native: Celia Palomares Garcia 1st
Sandy Creek High
German-3: Janae Walker 3rd
Spanish-Native: Alvaro Molina
Starr's Mill High
German-4: Elizabeth Jackson 1st
Spanish-1: Elizabeth Jackson 2nd; Bella Gorman 3rd; Yena Hwang 3rd
Spanish-2: Abby McSpadden 1st; Ishan Kasaju 1st; Melany Toda 1st; Stanley Dierkes 1st; Ella Griswold 1st; Mateya Petrova 2nd; Mark Panait 2nd; Rachel Harville 3rd
Spanish-4: Caron Lee 1st; Samantha Ludewig 2nd; Derrilyn Maxey 2nd
Whitewater High
French-1: Sophia Venagas 3rd
French-2: Faith Johnson 1st
French-3: Mollie Moody 2nd; Amal Trapathi 3rd
French-3: Carolina Stover 1st; Kennedy Lewis 2nd; Madison Morrison 3rd
French-Native: Raphaela Malbranche 2nd
German-1: Justin Lin 2nd
German-4: John Raines 3rd
Spanish-1: Rudy Whaley 2nd; Raegan Garcia 3rd
Spanish-3: Zachary Golubeff 3rd
Bennett's Mill Middle
Spanish-1: Nabiha S. Bhamani 2nd