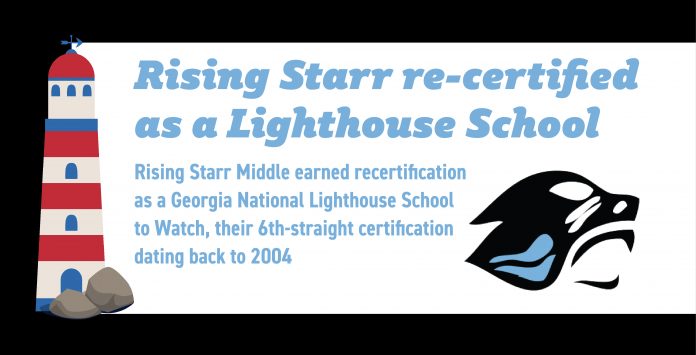 Rising Starr Middle remains a model of excellence, earning recertification as a Georgia National Lighthouse School to Watch, an initiative of the National Forum to Accelerate Middle Grades Reform.
This marks their 6th certification as a Lighthouse School to Watch. Having first become a Georgia National Lighthouse School to Watch in 2004, they have now been certified as Lighthouse School for 18 years. Including Rising Starr, there are 19 National Lighthouse Schools to Watch in Georgia in this cycle.
The National Forum identifies four domains that are true of high-performing middle-grades schools, and awards the Lighthouse designation to those schools that are meeting them. The domains include academic excellence; developmental responsiveness (sensitive to the unique developmental challenges of early adolescence); socially equitable, (opportunities and support for every student and teacher); and organizational structures and processes (norms, structures, and organizational arrangements to sustain trajectory toward excellence).
"The committee commented that RSMS is an incredible school with an amazing staff," said Principal Kathy Smith. "I am so glad to be a small part of such an amazing team. The committee asked how we have maintained this for such a long time, and I responded that it is because of an amazing staff, supportive community, and great students!"