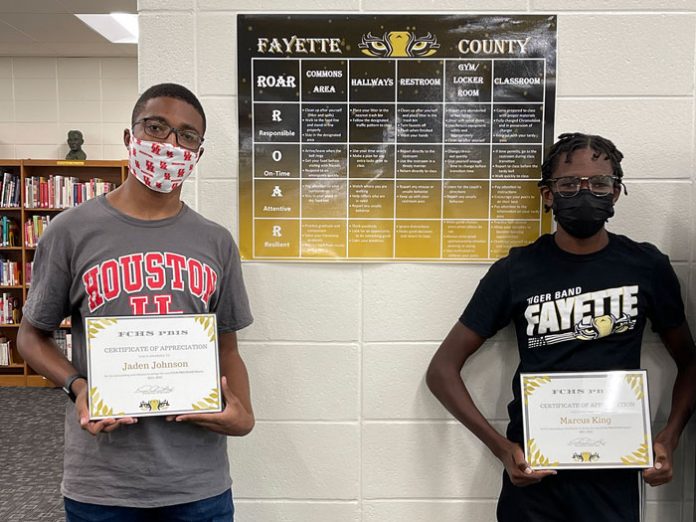 Fayette County High succeeds because everyone buys into Tiger pride from the top down.
FCHS is a PBIS school, which means they need a PBIS Behavior Matrix showing the behaviors they expect students to display around the school. With the matrix in need of an update, PBIS coach Priscilla Ray turned to the school's talented graphic artists.
The school's PBIS Matrix acronym is ROAR, and students are expected to be Responsible, On Time, Attentive, and Resilient. Previously the last R stood for "Respectful," but the obstacles presented by COVID-19 called for a shift in focus.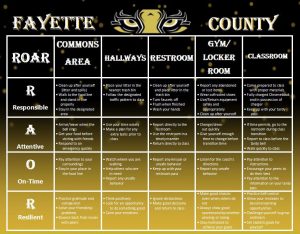 "Instead of an adult PBIS team member creating the updated matrix, we asked two students who are enrolled in graphic art classes to create a modern, updated version for us that included our new behavior," said Ray.
Two seniors, Jaden Johnson and Marcus King, teamed up to freshen it up. Johnson is one of the school's PBIS Student Ambassadors, a small group of students who work in collaboration with the adult PBIS team to problem-solve and implement solutions for the school as it pertains to school culture, climate, safety, and celebrations.
Ray was proud to see Johnson and King take on the project.
"At FCHS, it is important to us to include our students in our PBIS efforts in creating and implementing initiatives for our students and faculty."