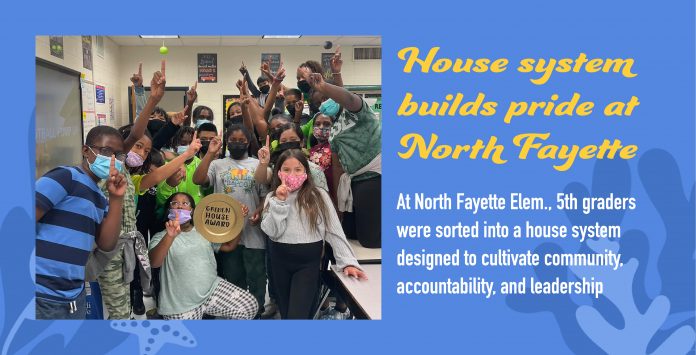 The Dolphins are making a splash with a new way to build community pride. At North Fayette Elementary, 5th grade students were sorted into a brand new house system designed to cultivate a climate of accountability and leadership.
To kick off the competition, the school hosted a pep rally and discussed expectations, purpose, and then randomly selected students for each house through a virtual wheel they created.
"Students were excited to see their names flash across the screen indicating the house they belonged to. It was 7 seconds of fame for them," said North Fayette 5th grade teacher Kimberly Simpson. "Once their name was announced, they ran over to their house and were excitedly greeted by their new housemates."
Every 5th grader was sorted into a house and works with their teammates to create a community centered around PBIS. The teams are House of Respect (blue), House of Responsibility (orange), House of Safety (green), and House of Kindness (red).
For the first competition, each house created a chant, a sign/call, a step, and chose an animal that would represent them, and they then performed in front of judges. The battle was won by the House of Safety, and the coveted Golden Plate award will be kept in house sponsor Simpson's homeroom.
The next competition in October will focus on teamwork through a STEM activity.
"Our students absolutely love the house system. We have seen them collaborate during recess and build new relationships with peers they normally would never talk to. Students are starting to hold each other accountable, especially since all house meetings are student led," said Simpson. "Our 5th graders have even suggested future competitions for the teachers to consider. The school spirit and sense of 5th grade pride have been amazing."
Though the houses compete against each other, the system reinforces that they are all Dolphins under the motto "4 Houses – 1 Family."
"Each house is led by a 5th grade teacher, so every teacher takes ownership of students from across the grade level. This helps create a cohesive 5th grade community," said Simpson. "We wanted to teach the students that no matter who their homeroom teacher is, every teacher is accountable for every 5th grader."