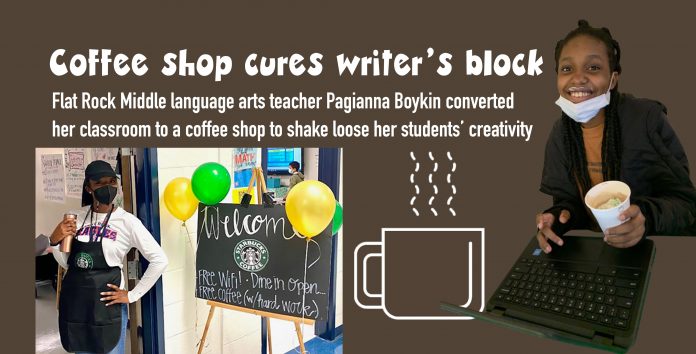 When her students were struggling with writer's block, Flat Rock Middle 6th grade language arts teacher Pagianna Boykin converted her classroom to a "coffee shop" to shake loose the creativity.
As part of their English Language Arts curriculum, Boykin strives to help her students find their "voice" through writing. Unfortunately, a common part of the writing process is encountering writer's block. As they worked on their first informational piece, the young scribes asked Boykin for her tips on how to spark new ideas when they run dry.
"I normally go to Starbucks to get some quiet, coffee, and free wifi! It helps me focus and taps into my creativeness," she said, noting that her class wanted to meet up so they could get the same experience when constructing their final pieces. "These suggestions definitely offered the insight that my students took ownership, not only of their writing assignment but also their writing goals."
Boykin got to work to transform her classroom into a place where her students could really dial in on their final drafts, even getting a Starbucks in Newnan to donate free cups.
"They were so focused, and I didn't have ONE student experience writer's block," Boykin said. "They moved from simple questions to asking authentic questions, which moved me."
Their hard work was rewarded with hot chocolate, and the orders resembled sentence structure.
"We had a lot of fun, and, with the help of my team, the students really felt like school was 'fun again.'"