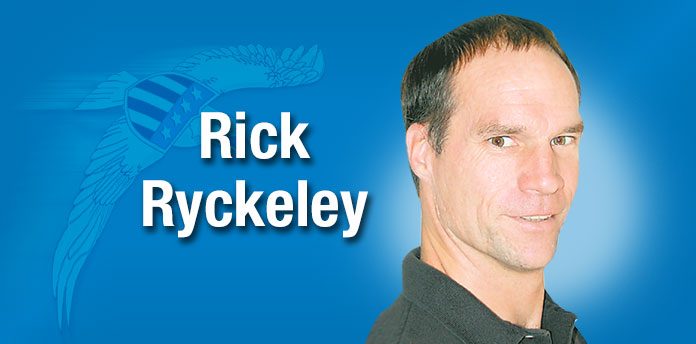 From my point of view, what had just happened and what I now saw made absolutely no sense to me. Then again, I was flat on my back, lying on the ground. Looking up, all I could see was darkness filled with what looked like a swarm of silver flies. Didn't know it at the time, but I'd just been knocked out for the very first time. Soon, I'd find out the knocker-outer was a kid who would plague me for the next seven years.
As the swarm of silver flies started to dissipate, they were slowly replaced by a dark figure. When my faculties finally returned, I was aware of three things.
First, directly towering over me was the menacing figure of none other than Down the Street Bully Brad. With both fists clenched, he growled, "Get up, you baby!"
Second, as I struggled to get back to my feet, bright red blood was dripping on the ground. Unfortunately, it was leaking from a gash in my forehead. The forehead gash and the mild concussion I was experiencing were both compliments of the rock my head had slammed into after being knocked to the ground.
And third, there wasn't a single part of my body that didn't ache.
After school fights were a normal occurrence in front of the huge magnolia, aptly dubbed "The Fight Tree." What wasn't normal up to now was a fight that included me as a participant. After being knocked down twice more, my three brothers had caught up with me, broke through the crowd that had encircled us, and helped to run Bully Brad off. When we got back home, Mom cared for my injuries and gave me a hug, "Next time make sure you and your brothers stay together. It'll be safer that way."
When Dad got home, he had different advice. "You can try to talk your way out of a fight, but sometimes the only thing a bully understands is strength. You've got to learn how to defend yourself. And never, ever turn your back and run away. That makes the bully think he's won, and he'll never leave you alone."
And finally, thanks to my brothers, I learned perhaps the most important lesson of all when it comes to dealing with bullies. Even using the best self-defense, there's a bully so big and so bad you simply can't defeat him by yourself. You will need help. And with enough friends joining in to fight on your side, there's not a bully out there that can't be defeated. Not even Down the Street Bully Brad.
It's my hope that you, Dear Reader, will always have friends that are willing to come running to help when you encounter your "bully down the street."
[Rick Ryckeley has been writing stories since 2001.]