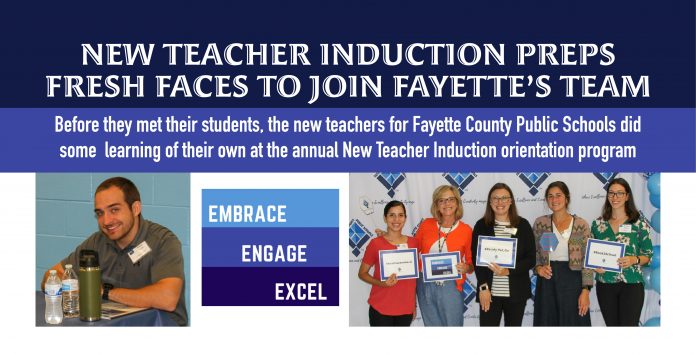 Before they stepped into their school buildings to meet their new students, the new teachers for Fayette County Public Schools did some learning of their own. The annual New Teacher Induction orientation program, hosted this year at Flat Rock Middle, got all new teachers up to speed for the year ahead.
All teachers new to the school system this year, whether they are rookie teachers or have years of experience elsewhere, gathered for four days of in-depth instruction and collaboration designed to leave them prepared and confident to hit the ground running in their new home.
This year's summit, dubbed "Embrace, Engage, Excel," kicked off with a big breakfast where the teachers could eat and chat with their new principals and district leadership.
A welcome assembly followed with messages from Superintendent Dr. Jonathan Patterson and other district leadership.
"You have elected to teach in one of the top school systems in the nation. Our schools are routinely honored for academic excellence, and such recognition does not happen by chance. It is the result of motivated students, involved parents/guardians, and highly-effective faculty and staff who perform at the top of their craft," Dr. Patterson said. "The latter is why you are here today. You were chosen to join our exceptional team of educators because you have demonstrated a commitment to providing a high-quality educational experience that inspires students to reach their highest potential."
Sandy Creek High senior Caleb Adams shared two important rules with the new teachers.
"Number one, don't give too much homework. Number two, remember rule number one."
Training sessions over the first three days covered a number of topics ranging from building connections in the classroom to engaging all learners to digital learning. Subject experts were brought into breakout sessions to focus on math, science, English language arts, and social studies, as well as counseling, Career & Technical Education, ESOL, health & physical education, and fine arts.
On day four, they reported to their own school locations to meet their administration, school-based mentors, and other faculty.
With so much preparation, by the time the first day of school rolled around on August 2, the new teachers of Fayette County Public Schools were ready to go!