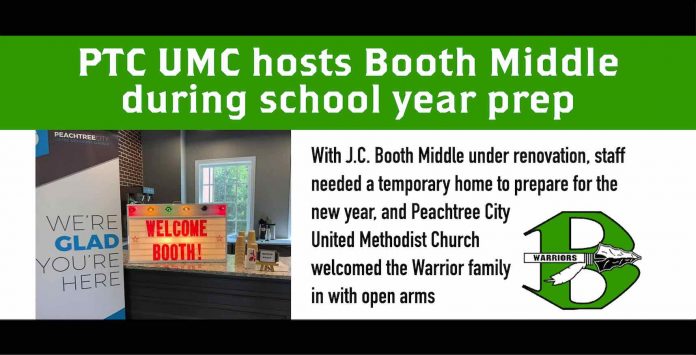 With J.C. Booth Middle under renovation before the start of the new school year, staff needed a temporary home to prepare for upcoming classes, and Peachtree City United Methodist Church welcomed the Warrior family in with open arms.
The staff and volunteers of Peachtree City UMC stepped up and made them feel like family. While walls were constructed and flooring was laid at Booth, the church provided a clean, quiet place to connect and collaborate.
Each morning there was an elaborate breakfast spread, and there were treats and snacks offered throughout the day. On the day moving boxes were sent back to classrooms at the school, the church delivered Amazon gift cards to each and every teacher.
"Peachtree City UMC truly served the J.C. Booth community," said 7th grade teacher Kelly Carswell. "Because of their hospitality, we will enter (the new year) energized and ready to pour into each and every student in our freshly renovated school."