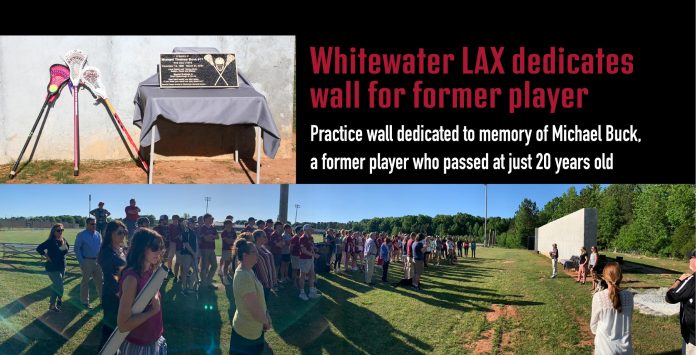 The sun shone down on the lacrosse practice field at Whitewater High as dozens of faces smiled through the tears. Though the memorial dedication could have been dark, it was a hopeful occasion remembering a life taken too soon and the impact it could leave in building a brighter future for his beloved team.
Michael Buck, who played lacrosse at Whitewater High and graduated with the Class of 2018, was killed in a car crash in March 2020 at just 20 years old. His family and friends searched for a way to best honor him, settling on a massive wall for players to hone their skills.
Parents Rick and Tammy Buck and sister Kaitlyn joined their lacrosse family to celebrate both Michael's life and love of Whitewater lacrosse.
"It always did feel like family, and, as I look at things that have happened in the last year, it's ever more true now as I look around," said Rick. "This, to me, is going to be a living memory of my son and his dedication to this sport that gave him seven of the happiest years of his life."
Tammy brought the lacrosse stick her son had strung for her so she could learn to play the game he loved. She shared her hopes that the wall would be a huge help to her fellow mothers.
"To all the moms and the families, I dedicate this to saving your dining room walls, your garage doors, and your neighbors windows," she joked.
She urged the players to take advantage of the gift they have been given.
"Do not drive your parents crazier practicing inside, take it outside. You've got a safe space here, go do great things with it."
Kaitlyn pushed the current players to pay it forward. Michael tirelessly took time to help out younger players, and the current team, especially those who Michael mentored, need to keep the chain moving.
"If you were that kid, then you know how that felt. Take that and help mold the younger group," she said. "You have kids that are looking up at you all the time. They're watching you whether you know it or not. If you see young guys out here using this wall, play with them. Start building those relationships and building up their future. Michael did it so many times."
Brian Gibson, an assistant coach on the staff during Michael's time on the team, lamented the loss of such a promising young man.
"I got to watch him grow his love for the sport. I got to see him grow into a good player. I got to see him grow into a good man. We lost him too soon," he said. "We talked a lot about legacy this year. Mike left a legacy. He left it by helping out the young kids and being friends to them. He left it by being an example and being a leader on the field, and now monolithically with this wall."
Nick Castagna, Michael's head coach at Whitewater, remembered him as a beloved Wildcat on and off the field.
"Mike was a fantastic kid. He truly cared about this team and this program. He was out here (on the practice field) probably more than he should have been," he said. "He made me better, and he made those around him better."
Castagna's daughter was born the day he found out his former player had passed.
"I jokingly said with Tammy 'She's got a wild and crazy guardian angel looking out for her,'" Castagna quipped. "Mike was nothing but wild and crazy, but he had a huge heart, and he would share it with anyone."
The memorial plaque was dedicated at the May 7 celebration, but the boys and girls teams had been using the wall to practice all season. The invaluable tool helped both squads win their region for the first time in school history.
"It's nice knowing that they can come to a place where they put in a lot of blood, sweat, and tears already to be a success and have this wall to hone their skills," said boys head coach Evan Bryant, whose 6-year-old son proudly wears a "Future Wildcat" shirt and loves to practice on the wall. "Know that the future is bright, and we're excited."
Appropriately, the boys team played this season under the theme of F.A.M.I.L.Y. (Forget about me, I love you) and reeled off the most successful campaign in program history.
"In the last year, we've needed this family," said Rick.
The Lady Wildcats played under the mantra of "Your Last." As their head coach Jim Lindsey said, "Practice like it's your last, play like it's your last. Like the plaque says, 'How hard would you play if you knew today was your last?'"
"I want to challenge both the girls and the boys. You don't need a key, this is here. It's built for us. Every time you come out here, look at that plaque and think about what he did and how hard he worked and put that in your mind every day," Coach Lindsey said. "There's no excuse for not being great."
The celebration concluded with ceremonial first wall ball touches, 17 to be precise for Michael's number, by Nathan Mayfield, who Michael inspired to play, and Cooper Kleppinger, who wears Michael's old number.