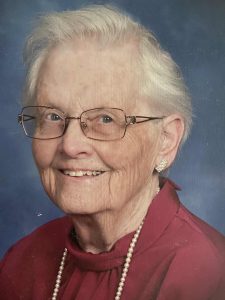 On April 21, Shirley Pallansch (Cunningham) of Peachtree City passed away after having lived a full life of 95 years that touched many more people than she could have imagined. 
Born to Russell and Claire Cunningham (McArthur) in Missoula, Montana, on December 7, 1925, Shirley grew up the oldest of three children in St. Paul, Minnesota. Early pictures show a young girl with beautiful curls and piercing blue eyes who inherited her father's love for the outdoors, music, and sports.
Shirley graduated from St. Catherine in St. Paul with a Bachelor of Science in biology and a chemistry minor. Many life-long friendships were made at St. Kate's and she remained a committed "Katie" until her death.
Shirley's first job out of college was as a Medical Technician at the University of Minnesota Hospital where she met Michael J. Pallansch. As the story goes, she was courted over poetry, picnics, and whiskey. Sufficiently impressed, they married on July 11, 1953.
Shortly thereafter, they moved to Virginia and settled in Arlington where her hands were full raising seven lively children, passing along her love of the outdoors, sports, music, and civic responsibility.
A devoted mother, Shirley never missed a football or baseball game, wrestling match, crew race, debate competition, concert, award ceremony, graduation, or anything else that involved one of her children. Shirley deeply loved her family — her husband, her kids, the in-laws, the outlaws, and ultimately the 14 grandchildren and five great-grandchildren who became part of her legacy.
Despite a busy and full family life, Shirley enjoyed playing bridge with her friends, canning fresh vegetables from the garden, learning new crafts and hobbies, and baking breads, cookies, and various desserts, all of which were generously shared with family and friends, even in her final months.
Shirley was also passionate about politics and social justice. In Arlington, she was very involved in parent-teacher associations, the school district, and local politics, often spending election days at the local polls working as a volunteer.
At home, mornings usually began with two cups of coffee, the newspaper, and a discussion of the issues of the day and would end with martinis and a recap of the day's events. She never lost interest in current events and, even in her final weeks, Shirley engaged family members and friends in conversations about local and national news.
After 35 years in Arlington, Mike and Shirley moved to Peachtree City, Georgia where she would spend another 23 years enjoying the wildlife just outside her back window, baking biscotti, playing bridge, and puzzling.
As always, she was quick to make new friends and had fun participating in exercise classes at the local senior center, playing handbells, discovering and traveling to new places, and generally enjoying a quieter pace of life that was regularly interrupted by visiting children, grandchildren, and ultimately, great-grandchildren. 
Her life-long commitment to the Catholic faith guided her through the years. One of her happiest moments in her final months was when Covid-19 related restrictions eased and she was again able to attend mass at Holy Trinity Catholic Church on Saturday afternoons with her friends. Her faith was strong and brought her great peace.   
Shirley was a beloved daughter, sister, wife, mother, grandmother, and great-grandmother and was the matriarch of the Pallansch clan. But she was also a saint on earth — humble, loving, patient, open-minded, and engaged. Everyone was welcome at Shirley's home.
Shirley was predeceased by her husband, Michael, and her son-in-law, Michael Sean Donnelly. She is survived by her seven children: Mark (Nancy), Luke (Susan), Claire Klaczak (Walter), Matthew (Gayle), Leona, John (Karen), and Cassian (Kathleen); 14 grandchildren: Melanie, Gregory, Eve, Julie, Lindsey, Rachel, Ross, Justin, Jennifer, Kyle, Michael, Luke, Joseph, and Matthew; and five great-grandchildren: Finley, Samuel, Kellen, Parker, and Darrah. 
A celebration of Shirley's life is planned for later; details will be forthcoming.
In lieu of flowers, donations can be made to the Audubon Society (https://act.audubon.org/a/memorial-gift?ms=digital-fund-web-website_nas-memorial-formquestions_20201200) or Holy Trinity Catholic Church Handbell Choir (https://www.holytrinityptc.org/giving).