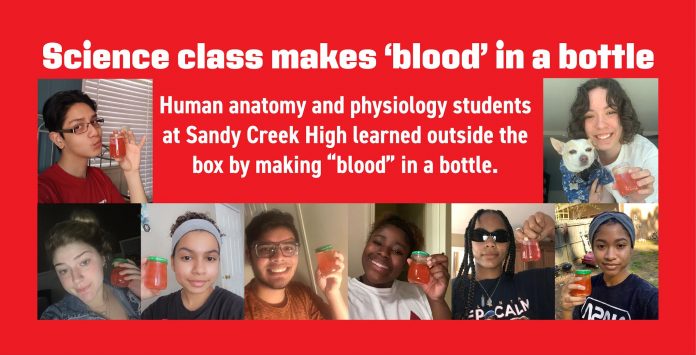 Human anatomy and physiology students at Sandy Creek High learned outside the box by making "blood" in a jar.
Under the direction of teacher Bethany Lambert, students mixed red water beads (erythrocytes), plastic pearls (leukocytes), and confetti crystals (platelets) with thickened water (plasma) to model human blood in proper ratios.
"This project was inspired by the desire for the students to experience some hands-on learning but in a different venue due to the complexity/health issues of working with human blood samples," said Lambert. "We emphasized that the liquid portion of the blood (the plasma) is actually straw-colored but human blood looks red because of how numerous the erythrocytes (red blood cells) are. They also included in their model leukocytes (white blood cells) and platelets in representative ratios. This allowed us to discuss different homeostatic imbalances of the blood like anemia, polycythemia, leukocytosis, etc."
Students eagerly anticipated working on their own projects.
"The student response to this activity was great. I had some student samples from prior years sitting out in the classroom, so my students were excited to find out what the models were and what they were for," said Lambert. "Most of them were excited to make the model and take them home to show their parents and friends and impress them with their knowledge of the topic."