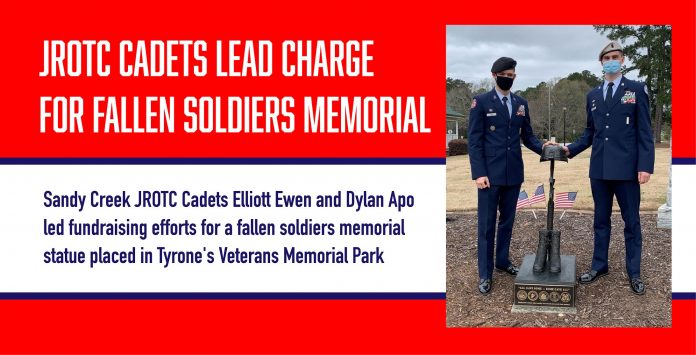 A pair of Sandy Creek High Air Force JROTC cadets want to make sure those who gave all for their country are never forgotten. AFJROTC cadets Elliott Ewen and Dylan Apo led the fundraising efforts raising $7,000 to purchase and install a fallen soldiers memorial statue for Tyrone's Veterans Memorial Park.
"What inspired us to raise funds for the statue was the idea of being able to instill a sense of honor to those veterans that gave the ultimate sacrifice and to those still alive to remember the ones that gave their all," said Ewen.
For Apo, there was an extra meaning to the statue in honoring his grandfather, who had recently passed.
"He was my biggest supporter and also an Air Force veteran," said Apo. "I felt like by getting the statue I could physically represent the appreciation I had for him."
Major Willie Bohles, who now commands the AFJROTC program at Sandy Creek High, was awed by the efforts of the cadets.
"Although I was not on staff at the time, what I have learned of their efforts last school year is simply incredible," said Major Bohles. "I am very proud of our cadets who came up with the idea and raised the funds on their own to purchase the statue. They met with local retired military related organizations for their guidance and saw this project through completion."
The statue is a sign of gratitude.
"One aspect of the Air Force JROTC Cadet Creed that we recite every day is 'I will honor those I serve with, those who have gone before me, and those who will come after me.' This directly correlates to the main objective of the statue: To honor our past, current, and future veterans, and more specifically, those that gave their life protecting the American people and way of life," said Ewen. "One of the plaques on the statue states, 'All gave some, Some gave all,' and this is exactly what we are aiming for, to honor those that gave their all and to recognize those that fought alongside those brave men and women."
"I hope that people take away from the statue a sense of community," said Apo. "This statue could not have been possible without the support from the community. Especially after recent events, I want it to serve as a reminder of the love we share with the people in our community."
Seeing the statue unveiled was a mix of celebration and relief.
"I feel very satisfied to complete the project," said Apo. "I've never completed a goal this big in my life, and the reward of seeing it to the end was a very rewarding experience."
"There was a great sense of relief finally finishing this project," said Ewen. "There were many hardships that the challenges of the day have brought upon us, but we were able to not lose hope and finally accomplish our goal and my dream of installing and officially dedicating the statue."
Major Bohles hopes the project can serve as a source of inspiration for everyone.
"What I hope people take away from this project is to run full steam ahead with your ideas. It doesn't matter what it is, how big or small. The idea is a simple dream if steps are not taken to see it though all the way to completion," said Bohles. "I believe the cadets who were part of this project learned this valuable lesson which they will take to seeing though larger and just as meaningful projects in the future."
The goal of AFJROTC is to help students become better citizens for America and to instill in them a sense of community service, self-discipline, and a commitment to excellence without a requirement to join the military. To accomplish this mission, they hold to the following objectives: Educate and train high school students in citizenship; promote community service; instill responsibility, character, and self-discipline; and provide instruction in Air and Space Fundamentals.