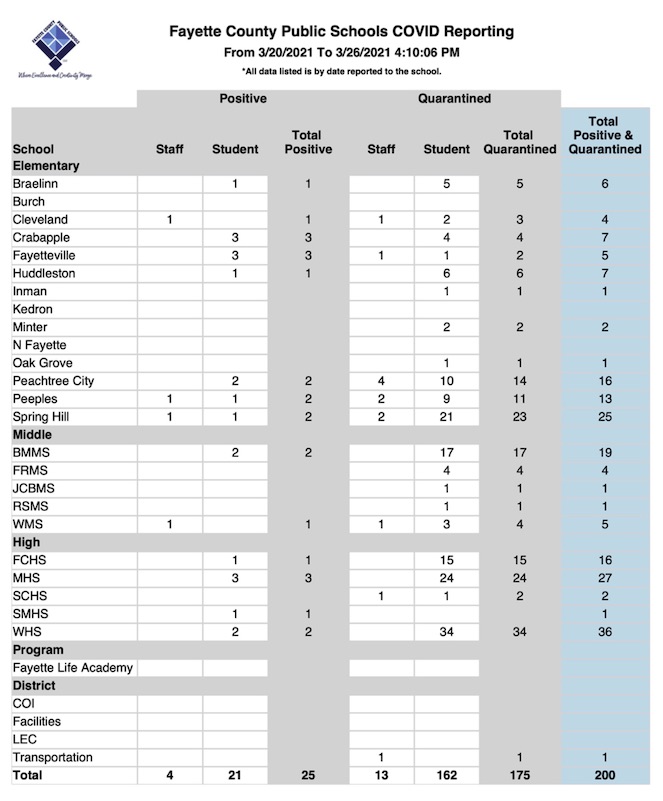 Cases double, quarantines nearly triple week to week — 
After a quiet week at Fayette County schools, the coronavirus reappeared like an unwelcome guest, more than doubling the number of new infections and nearly tripling the numbers of students and staff members quarantined after exposure to Covid-19, according to the weekly report from the local school system.
That comes as the numbers in Fayette and across Georgia show a downward trend.
As of Friday, March 26, the report showed 25 new confirmed cases of Covid — 4 staff members and 21 students. That compares with 10 the previous week — 9 students and 1 staff member.
New infections among staff members were 4, spread among 3 elementary and 1 middle school. Student infections were more widespread, hitting 12 schools — 4 of 5 high schools, 1 middle school and 7 elementary schools.
The quarantine numbers also increased — from 66 sidelined the previous week to 175 last week.
Several high schools had double digit quarantine numbers: Whitewater High with 34 students sidelined, 24 at McIntosh High, and 15 at Fayette County High.
Bennett's Mill Middle School had 17 students in quarantine, while among elementary schools, Spring Hill has 21 and Peachtree City had 10.
This past week only 1 high school — Sandy Creek — was Covid clear; 3 middle schools out of 5 reported no new cases; and 6 of the 8 elementary schools had no new cases.
Fayette County's 24 schools have close to 20,000 students enrolled both in-person and virtually. The system is the county's largest employer with more than 2,700 employees, including nearly 1,500 teachers, according to the system's website.