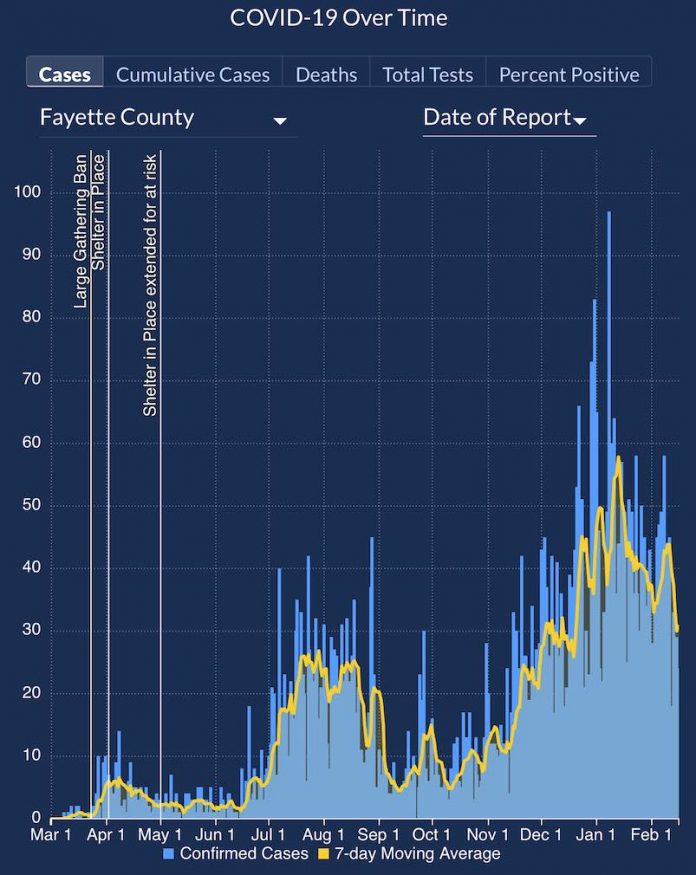 The list of Fayette residents struck down by the Covid-19 virus added 2 more victims in the past 2 days, according to data from the Georgia Department of Health.
Both were elderly white women, an 86-year-old with an underlying medical condition, and a 90-year-old with no other medical complications. Fayette's death toll is 117, a death rate of 2.04%, or 2 out of every 100 persons with confirmed infections.
Meanwhile, frigid winter weather across the country is delaying new Covid vaccine shipments, upsetting many appointments to get protective shots.
"Both Pfizer and Moderna vaccines that normally would have arrived the first part of this week were held back by the manufacturers due to the weather," DPH said Tuesday afternoon.
"As a result, many providers statewide, including health departments, are being forced to reschedule appointments for vaccination. Rescheduling appointments will depend on when shipments resume and when the vaccine arrives in Georgia. Delays are expected to continue through the week," DPH said.
"DPH is asking the public to be patient as we wait for weather conditions to improve and vaccine shipments to resume. Your provider should contact you about rescheduling your appointment. For people who were scheduled to receive second doses of vaccine and are worried about not being vaccinated at 3 or 4 weeks, the CDC says second doses of Pfizer and Moderna vaccines may be administered up to 6 weeks after the first dose," DPH said Tuesday afternoon.
That likely accounts for the relatively low number of vaccinations reported Tuesday: only 123 shots given, to bring the Fayette total to 5,820 vaccines administered. That breaks down to 4,149 first shots and 1,671 second shots.
The county's 7-day moving average of new cases shows a continuing downward trend (chart above) with 24 new cases reported Feb. 16, bringing the pandemic total to 5,723.
Additionally, the county registered 514 new cases during the past 2 weeks, bringing the 2-week positive test rate to 9.7%, same as the statewide rate.
The state death toll is up to 14,176, with 179 added Tuesday.
The statewide new case number fell below 2,000 a day, to 1,840, continuing the downward trend. Georgiqa has counted 794,349 confirmed cases so far.
The chart below shows the same down trend in hospitalized Covid patients, while the second chart shows the usage trend in the state's hospitals, particularly the availability of Intensive Care Units.