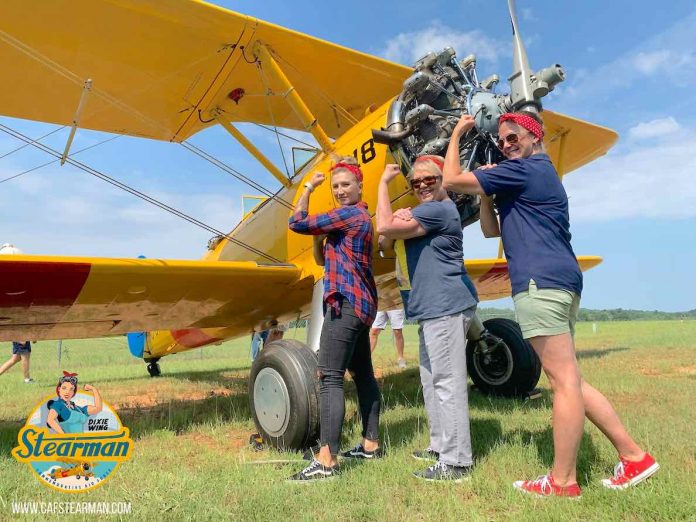 A World War II Stearman training plane is among 12 aircraft selected this year for the annual Commemorative Air Force (CAF) fundraising campaign, "Twelve Planes of Christmas."
The CAF Dixie Wing in Peachtree City, Ga., is restoring the Stearman and dedicating it to all WWII Rosie the Riveters, the women who were instrumental in staffing U.S. manufacturing plants for the war effort. American women played important roles during World War II, both at home and in uniform. An estimated five million civilian women served in the defense industry and elsewhere in the commercial sector during World War II with the goal of freeing men to fight.
"It is an honor to have one of our aircraft selected for this national campaign," said Robyn Rosenzweig, Stearman project leader. "Our goal is to inspire the next generation of pilots, mechanics and citizens through our project. We need to raise $65,000 to purchase the engine for our Stearman bi-plane. All of the mechanical work will be done by our own volunteers, including several female wing members representing the Rosies of WWII."
The CAF Dixie Wing recently named its restored P-63 Kingcobra in honor of an actual Rosie, Betty Bishop of Florida, who helped build the very aircraft restored by the Wing, when she was working at an aircraft plant in New York in the 1940s.
The Rosies' accomplishments and contribution to the war effort are included in the World War II Home Front® lesson plan series licensed by the CAF Dixie Wing for use by educators throughout the State of Georgia. The Stearman restoration also will serve as an education topic, designed for elementary, middle and high school students.
The Dixie Wing's 1941 Stearman will be restored and painted to represent an example of the U.S. Navy's iconic WWII biplane trainer. The U.S. Army Air Forces operated them as the PT-13 and PT-17, while the U.S. Navy had their own variants, the NS and N2S. More than 10,000 'Stearmans' rolled off the factory's production line in Wichita, Kan., before war's end. They were an essential element in the pilot training program for virtually every military airman on the North American continent during the decade straddling WWII. This aircraft type is the most numerous WWII-era warbird still flying.
To make a contribution, go to https://bit.ly/3mk024D.
Any gift will be appreciated and will count toward the campaign goal. Educators interested in the Rosie K-5 lesson plan can contact the CAF Dixie Wing.