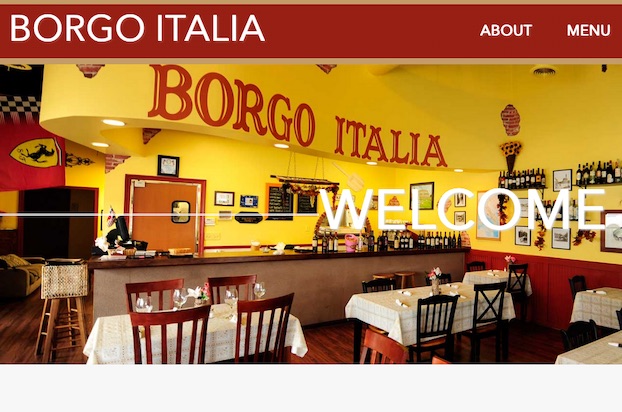 'Bring a dish of any kind and if you know of somebody who is alone, feel free to extend the invitation to them' — 
Nestled in a local shopping center sits a little slice of Italy right here in Peachtree City. Owned and operated by siblings, Cristiana and Alessandro Folchitto, Borgo Italia is a local favorite serving up true authentic Italian "trattoria." 
Dawned in warm Tuscan colors and surrounded by bottles of delicious Italian wine, the Folchitto siblings have been serving their delicious cuisine to the Peachtree City area for several years. While their food is undeniably delicious, their story and what they do for the community is what sets this place apart.
Coming to the United States as Italian immigrants, the Folchittos credit their love and belief in the American dream to their parents, GianFranco and Tiziana, who emphatically encouraged their children to pursue it with them. Along with that belief system came a spirit of love, generosity, and passion that both Cristiana and Alessandro have poured into Borgo Italia and the community that supports them.
While the holidays invoke a spirit of joy and happiness for many, it is often a time of year that some find challenging be it emotionally or financially. The Folchittos recognized this and began what is now a several years long tradition of opening their doors on Thanksgiving Day to those who find themselves celebrating alone.
"Thanksgiving is a celebration of kindness and gratitude and a holiday that can be absolutely wonderful. But, it also can have mixed feelings for those who've lost loved ones. We came to this country as immigrants without knowing many people and leaving our roots behind. We felt welcome in this country and are grateful to be here every day. But, it can be difficult to be alone. I lost my mother 7 years ago and to honor her memory, we open the doors of our restaurant to anyone that wants to join us to celebrate, eat good food and enjoy great company with our extended family. You are more than welcome to join us whether you are alone or cannot afford to celebrate," says Cristiana.
The Folchittos extend the invitation to celebrate with them this Thanksgiving and Cristiana says, "you are welcome to bring a dish of any kind and if you know of somebody who is alone, feel free to extend the invitation to them." — Provided by the Peachtree City Convention and Visitors Bureau.