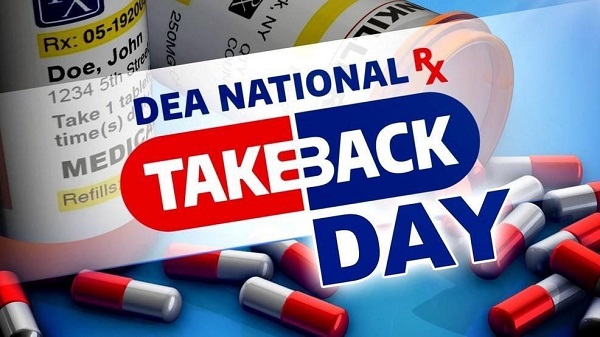 Got any unused or expired medications that need to be discarded? If so, Oct. 24 will be the perfect time to do so, as agencies in Fayette County are participating in the National Drug Enforcement Agency (DEA) Take Back Day.
Officers will be on-hand on Oct. 24 from 10 a.m. until 2 p.m. at the Fayette County Sheriff's Office, Peachtree City Police Department and Fayetteville Police Department to receive expired or unused medications. Keep in mind that no sharps, liquids or aerosols can be accepted.
The drop-off addresses are:
Peachtree City Police Department — 350 Ga. Highway 74 South
Fayetteville Police Department — 780 Jimmie Mayfield Boulevard
Fayette County Sheriff's Office — 155 Johnson Avenue in Fayetteville
Law enforcement agencies across Fayette County customarily participate in annual take-back events.
Commenting on the upcoming event and its significance, Drug Free Fayette member and former DEA staff Ken Morrow said, "As I look back on my career and the time I spent at the DEA Tactical Diversion Squad investigating doctors who operate pill mills, I am still shocked and saddened to see the Opioid Epidemic thrive. As we hope to see a vaccine for the Coronavirus in the near future, there is still no vaccine for the opioid epidemic. The statistics alone are cause for alarm — over 760,000 overdose deaths since 1999, and in 2018 over 46,000 overdose deaths involved an opioid.  As a Task Force Officer with the DEA, I conducted over 100 death investigations tied to pill mills and doctors who over-prescribed opioids."
Morrow also shared the story of a woman who died from an opioid overdose, and the circumstances that led to it.
"While interviewing victims' family members I often asked how and when the victim started using drugs and have been told repeatedly, that many of these victims started taking prescription drugs they found in their parents' or relatives' medicine cabinets," said Morrow. "I think of Aubry (name changed), who as a teenager, started experimenting with methadone tablets she took out of her grandparents' bathroom. Aubry came from a good family, was a good student, and had a promising future prior to her drug use. Her life spiraled out of control, and despite her family's best efforts, Aubry died of an opioid overdose in her 20's, leaving behind a husband and two young boys.
"Unfortunately, Aubry's tragic story can be told again and again across our county, state and country. Each overdose death is a preventable tragedy and leaves behind families that will never again be whole. And while we may not be in control of the decisions that people make that are not in our personal circles, we can influence what happens within our own circles. It starts with recognizing that the opioid epidemic is still here. It is still claiming lives. However, we now know that by making a few very simple changes, we can positively impact those around us and prevent drug experimentation, addiction and death.
Making the point on how each of us can help, Morrow said, "First, we must become educated consumers of medicine. We should understand what we are being prescribed (especially when it comes to controlled substances) and then managing our medication regime with a healthcare professional.
"Secondly, we should keep our medication safe and away from children or others who may take it to experiment or abuse. This can be done by storing the medication in a safe place and/or locking it up.
"Lastly, the safe disposal of unused or unwanted medication. The DEA Take Back date is held twice a year and is a safe, easy and trustworthy way to dispose of your medication. Another alternative is disposing your medication in the Fayette County Sheriff's Office drop box, other local law enforcement drop boxes, and in some pharmacies, that are open and available year-round. This is a call to action, you can make a difference, and your loved ones are depending on you.  There are plenty of safe options for us to contribute to the end of the opioid epidemic, so see you Saturday.
Drug Free Fayette is a coalition of community leaders and youth in Fayette County focused specifically on reducing youth substance abuse in the county.  While focused on youth substance abuse prevention, DFF aims to align with other organizations that provide treatment and recovery services, for youth as well as adults. DFF is a confidential and reliable resource for information about substances, healthy alternatives, and tools to keep our families safer.
For more information visit www.DrugFreeFayette.org