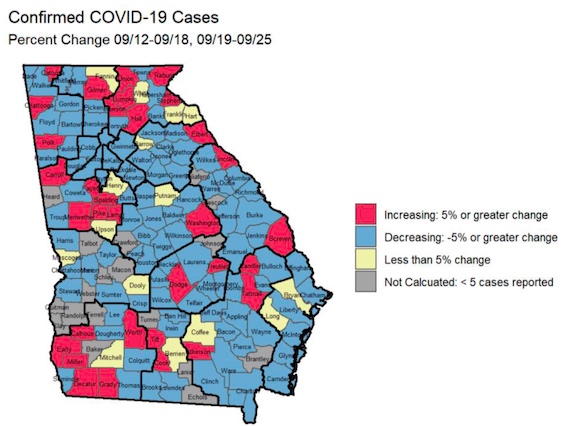 Hospitalizations also down — 
From 9/21 to 9/28, the seven-day average of new Covid-19 cases reported decreased 30.4%, the Georgia Department of Public Health said.
"The seven-day average of new cases reported is down 67.7% from our peak July 24," according to a DPH news release Tuesday evening.
"We are seeing decreases in many areas of the state in both case counts and percent PCR positivity," DPH said.
Positivity Rate
The statewide percent positivity (7-day moving average) for PCR tests has decreased from 10.3% on 9/21/20 to 6.3% on 9/28/20. It is the lowest statewide positivity rate (7-day moving average) since June.
Hospitalizations
Daily hospitalizations for COVID-19 have decreased from 1,415 on Sept. 21 to 1,317 on Sept. 28, or a decrease of 7% in the past week. Hospitalizations have decreased 58.8% since a daily high of 3,200 July 30 of 3,200.
Emergency Department Visits
Emergency Department (ED) visits related to COVID-19 and ILI (influenza-like illness) have remained flat over the two week period Sept. 12-25.
DPH reports 106 outbreaks from Sept. 20-26.
These outbreaks are occurring in settings where people are physically congregating and underscore the need for physical distancing and source control. The highest number of outbreaks occurred in schools, long-term care facilities, correctional facilities and workplaces.
Schools were a major source of outbreaks, accounting for 28 cases during that week, followed by workplaces (18), long-term care facilities (17), and prisons or jails (10).
Testing Update
As of Sept. 28, the state reported 2.9 million (cumulative) COVID-19 tests reported to DPH through Electronic Laboratory Reports (ELR).
The number of specimens collected at DPH SPOCs is 1,046,611.
DPH is operating 187 testing sites (SPOCs), including mobile and pop-up locations statewide.
Georgia will be receiving more than 3 million Abbott Laboratories BinaxNow rapid COVID-19 test kits by the end of the year. In his announcement, Governor Kemp said the tests will be used for K-12 schools, higher education, first responders and other critical areas of need.
For updates on COVID-19, follow @GaDPH and @GovKemp on Twitter and @GaDPH and @GovKemp on Facebook. Click below for the full DPH report.
092920_DPH News Release – COVID-19 Update
For information about COVID-19, visit https://dph.georgia.gov/novelcoronavirus or https://www.cdc.gov/coronavirus/2019-ncov/index.html.