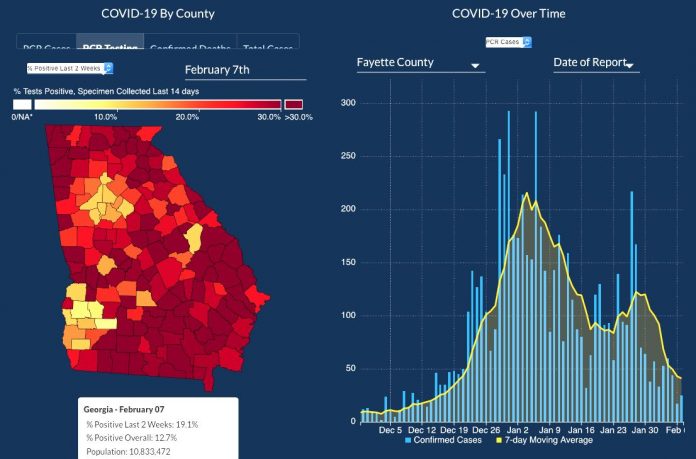 After an omicron peak average of more than 200 new test-confirmed Covid-19 cases a day across Fayette County in early January, daily counts have now fallen to fewer than 50 cases a day, according to data from the Georgia Department of Public Health.
To ilustrate, the 7-day average of daily cases was above 120 per day on Jan. 30. Eight days later on Feb. 7, the daily average is fewer than 50 new cases a day and still falling.
The 2-week average of new positive test results for Fayette residents is at its lowest point since 2 days before Christmas: 11.3%, DPH reported.
Fayette now has recorded 16,226 Covid cases in the nearly 2 years since the pandemic began, with 299 cases reported since last Friday. For comparison, neighboring Coweta's 2-week rate is 20.5% and the state 19.1%.
In Fayette County schools, the weekly new case number at the end of last week was 106 new cases, lower than the previous 2 weeks, according to the Feb. 4 report from the system.
Fayette deaths have risen to 253 as of Feb. 7, 24 more than recorded on Jan. 3. Nine of those deaths occurred over the past week, following the pattern of previous surges in which deaths are a trailing indicator of the seriousness of the infections.
Hospitalizations for Fayette patients with Covid increased 17 since Jan. 31, bringing the total to 884 for the 2-year pandemic, 138 since Jan. 3 of this year.
Charts below show, in order, (1) a close-up of the omicron surge in Fayette County, (2) the entire pandemic in Fayette by number of daily cases, (3) the Feb. 7 graph of daily cases statewide since March 2020, and (4) the latest weekly report of new cases in Fayette's schools.