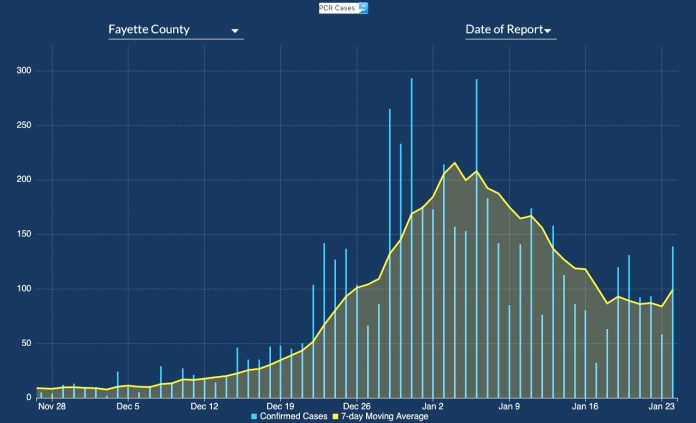 Covid case numbers continue a downward trend in Fayette County in general while remaining steady at above 120 new cases a week within the county school system, according to new reports from the Georgia Department of Public Health and the Fayette County School System.
Fayette reported slightly more than 100 confirmed new cases a day since Monday, Jan. 17, DPH data showed Monday, Jan. 24. That brings the pandemic total in Fayette to 15,185, representing 703 test-confirmed new cases in the past 7 days.
Fayette Covid deaths are at 236, an additional 4 fatalities in the past week. Hospitalizations of Fayette residents (not necessarily into the local hospital) were 19 during the past 7 days, DPH data showed. The data do not distinguish between those admitted specifically because of Covid versus those who were admitted for other reasons who then tested positive for the coronavirus infection after admissions.
New Covid cases within the county's 24 public schools were at 128 for the week this past Jan. 20 — 108 students and 20 staff and faculty members, according to the system report released Friday.
That compares with 134 confirmed cases the previous week — 107 students and 27 system employees from Jan. 7 through Jan. 13.
Fayette County is one of the state's bright spots in the closely watched 2-week rate of new test-confirmed cases. Fayette dropped from a rate of 23.3% on Jan. 17 down to 15.8% by Monday, Jan. 24, DPH data showed. That compares to the current statewide 2-week rate of 29.7% and Coweta's 2-week rate of 30.2%.
Fayette also remains one of the state's most highly vaccinated counties: 64% of the county's eligible residents are fully vaccinated with 29% of those also having added booster shots.