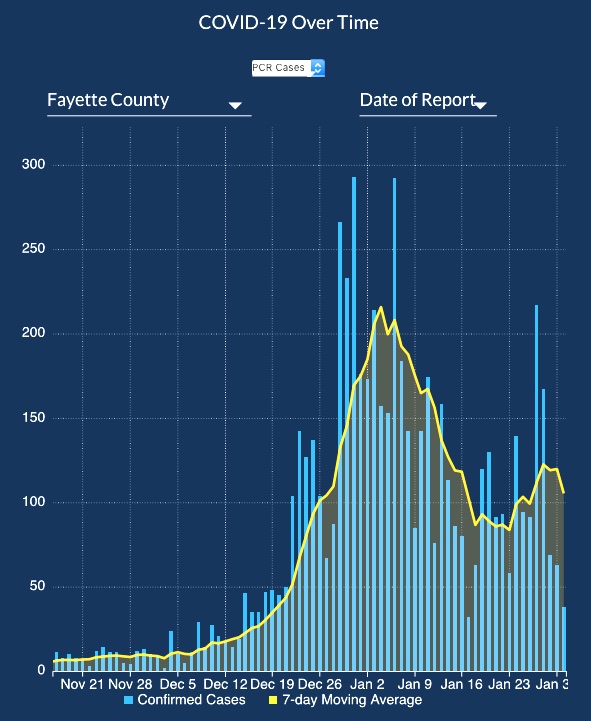 January case numbers in Fayette represent nearly 20% of the county's pandemic total — 
After a slight uptick in Covid case numbers last week in Fayette County, a pronounced downward trend is once again in place as of Monday, Jan. 31, according to data from the Georgia Department of Public Health.
The overall cases per 100,000 population of test-confirmed Covid-19 is at 1,219 for Fayette, down from a peak of 2,275 new cases per 100,000 population recorded on Jan. 11.
In other words, the case rate at the end of January 2022 is just over half what it was 11 days into the new year — 53.5% to be exact, according to the DPH website.
While daily new case numbers dwarf those of previous Covid surges, the documented milder symptoms of the omicron variant of the conronavirus have led to relatively fewer fatalities and hospitalizations.
Deaths of Fayette residents for the entire pandemic stands at 244, with another 35 listed as "probable" Covid-related. That's 21 definitively Covid-caused fatalities during January 2022, with another 10 "probable," DPH data show.
The hospitalization total of Fayette residents for the entire pandemic is 867, with 121 occurring in the month of January 2022, DPH data show.
The new case total for Fayette in January rose 3,166 to reach its end of month level of 15,927, DPH data show. Another way of looking at that is that almost 20% of all Covid cases involving Fayette residents during the entire pandemic since March 2020 occurred during the past month.
Despite that huge number of new cases, only 121 — just under 4% of all cases confirmed in Fayette — required hospitalization, and the death toll was 15, or under one-half of 1% of the total new cases.
The 2-week rate of positive Covid tests in Fayette bounced up slightly last week then fell to its lowest rate of the month. That measurement of what percentage of all Covid tests resulted in confirmed infections peaked at nearly 35% on Jan. 5, fell to 15.3% on Jan. 25, bounced past 16% a couple of days last week, then fell to its Jan. 31 level of 14.4%, its lowest level during the month of January.
Several unknowns remain: How many actual Covid cases were undetected because they were never test-confirmed, how many people were hospitalized for reasons other than Covid but tested positive upon admission, and given the extreme contagiousness of the newest omicron variant, how effective will prevention measures like facial masks and social distancing actually prove to be.
Last week brought those questions into focus as two Fayette institutions — the county's one hospital and the county's public school system — went in opposite directions on mandatory masking requirements.
Piedmont Fayette Hospital in Fayetteville now requires all patients and vistors to upgrade their facial masks to medical grade rather than a simple cloth covering. And the Fayette County School System went back to optional masking for all students, staff members and visitors. That optional approach to face masks remains in effect this week in all schools as of Monday, Jan. 31.
The school system for the third week in a row reported on Jan. 28 a case number over 100 but under 130. Hardest hit last week were Whitewater Middle School with 12 total cases,  Whitewater High School with 11 cases and Inman Elementary with 10 new cases. The total was 128 new cases for the system — 28 staff members and 100 students.
Below are graphs and charts from DPH and the school system that give a visual perspective of the numbers both locally and statewide.