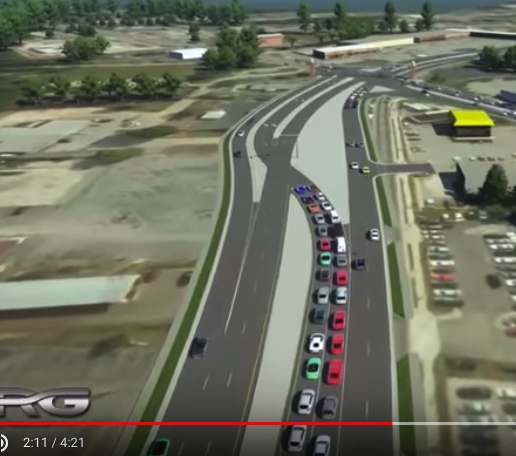 State DOT to unveil reconstruction plans for Fayette's biggest traffic jam — 
Some can remember when the junction of Ga. highways 54 and 74 was a four-way stop, no traffic light and very little traffic. That would have been early January 1977.
Skip forward 43 years to today. In the early days of January 2020, drivers from both Fayette and Coweta counties have little good to say about the traffic mess that intersection has now become.
With turn lanes, it's now eight lanes across where the busy roads intersect, and during morning and evening rush hours — and sometimes even at midday — traffic backs up going all four ways for blocks, awaiting multiple light cycles. X marks the spot where police watch to ticket drivers who "block the box" — the ones who get caught in the middle of the intersection when the light turns red and they have no place to go.
The Georgia Department of Transportation — the agency in charge of any changes to that intersection — is coming to the Peachtree City Library Thursday, Jan. 23, for two hours from 5 to 7 p.m. to hear from interested citizens about how it plans to improve traffic flow in all directions with something called a "displaced left turn."
"The informal event will provide information on the planned reconstruction of the Highway 54/74 intersection to include a Displaced Left Turn. While there will be no formal presentation, the public is invited to attend any time during the open house to view the project, ask questions, and comment," according to the city's notice of that hearing to the public.
The upshot of the displaced left turn is that it adds a much longer left turn lane — or two lanes, in some cases — that actually crosses the lanes carrying traffic heading in the opposite direction. It means months-long construction of new lanes in addition to the ones already there, and that will impact businesses on all sides of the busy commercial area.
Snellville drivers met that new trend in traffic movement this past summer, and the DOT created a video to help drivers figure out how the thing works (at 2:05 into the 4:21 video). If you're stuck in traffic at the intersection, you can view the entire video while waiting for your chance to sprint across the X-box (but remember: Only if your viewing device is hands-free).
If you can't make the hearing or you want to provide more information to the DOT, "written comments may be sent to Mr. Eric Duff, State Environment Administrator, 600 West Peachtree St NW, Floor 16, Atlanta, GA 30308," the city notice says.