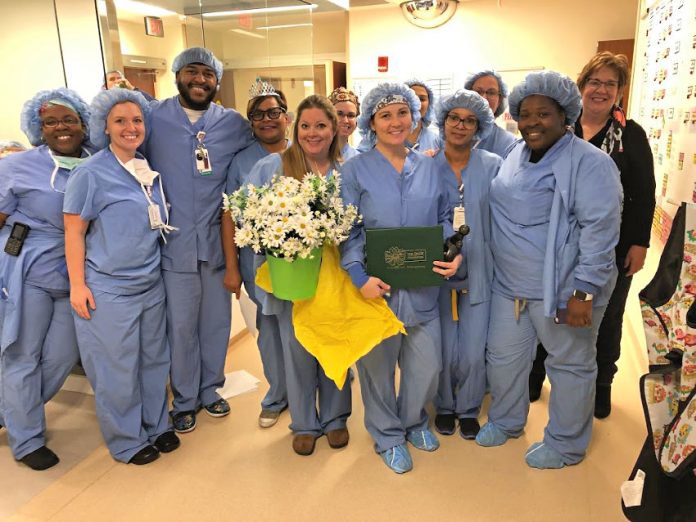 Christie Whitlock, an RN in Surgical Services at Piedmont Fayette Hospital, was recently presented with a DAISY Award for her actions outside the operating room.
Whitlock was nominated for the compassion she showed to the family of a patient while in the gift shop. The family was in line to buy a baby blanket but realized they did not have enough money. When Whitlock went to pay for her items, she asked the staff to add the baby blanket to her bill so that the family could gift it. When she turned around, the family was gone. Whitlock went to labor and delivery and the Family Care Center to find the patient's family to ensure that the baby blanket was delivered. She made sure to make this event in this family's life memorable.
"Our purpose at Piedmont is to make a positive difference in every life we touch," said Merry Heath, Piedmont Fayette's Chief Nursing Officer. "I am always so proud of our nurses and staff members who take this purpose to heart and show extraordinary compassion and care to everyone they interact with."
The not-for-profit DAISY Foundation was established by family members in memory of J. Patrick Barnes, who died at the age of 33 in 1999 from complications of Idiopathic Thrombocytopenic Purpura, a little known but not uncommon autoimmune disease. The care Barnes and his family received from nurses inspired this unique means of thanking nurses for making a profound difference in the lives of their patients and their families. For more information about the DAISY Award, visit daisyfoundation.org.
For more information about nursing career opportunities at Piedmont Fayette, visit piedmontcareers.org.