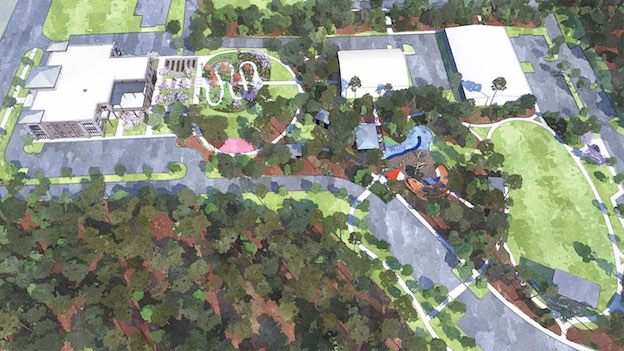 A memorandum of understanding (MOU) with Walton Communities for the construction and maintenance of the public streets, landscaping and park areas to be located in the Walton Fayetteville mixed-use development, adjacent to the south side of the new City Center Park property, was approved on Nov. 7.
The council vote was 4-0, with Councilwoman Kathaleen Brewer abstaining.
"In order to align with the city's vision for downtown, it is imperative that the streets within (Walton Communities) development are part of the public domain and become a true extension of the downtown where people can walk, drive or ride within and throughout the development to other points of the city," Downtown Development Director Brian Wismer said in an Oct. 25 letter.
The residential and retail portion of the project, which is adjacent to the upcoming City Hall and City Center Park project, will include seven 3- and 4-story buildings. Those buildings will accommodate 270 apartments and 18,000 sq. ft. of ground-floor retail and office space.
The MOU noted that Walton will develop and construct the project with a minimum investment of $30 million.
Wismer said in the spirit of public/private cooperation, the civil engineers designing the City Center Park and Walton Fayetteville have been working together to align these adjacent road networks to become part of the expanded downtown grid.
"We want residents to feel like each block is a city block," Wismer told the council.
"In addition, the manicured greenspace and passive park areas on the site will become public amenities. These new roads and park areas proposed within Walton Fayetteville fall within the services and improvements listed in the City's Capital Improvements Element (CIE), and therefore qualify for partial funding through the Impact Fee Program," Wismer noted in the Oct. 25 letter.